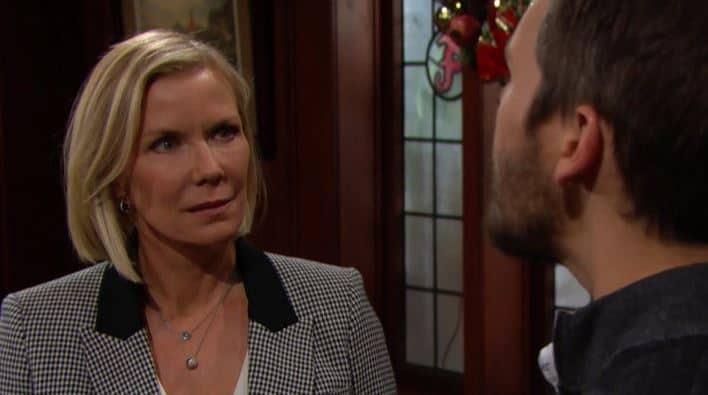 The Bold and the Beautiful fans are not happy with Hope these days. She's overreacting about things that don't concern her. She's told her husband that if he is going to allow Taylor to be a part of his Christmas with Steffy and Baby Kelly, he can count her out. He will simply have to do a second Christmas with the baby and with Hope and her mother. He is shocked by this. Even Bill is fine with Taylor these days. He's not all that upset about the way things are moving along for him at the moment given the fact that he is the one who was shot by her. Even he feels she's fine. He forgave her — even if he might not want to hang out with her in a way. There's so much that Hope and her mother need to get out of, and this business is first and foremost on the list of things that they need to let go of. This is not their business, their problem, or their concern.
But he's beside himself. We also saw Brooke basically tell Reese that there isn't a chance in the world that she will ever go through her apology to Taylor. She will not do it, she doesn't feel she owes her one, and he will not tell her what to do. Maya is back, and she's announced her very bad news to her family. She's decided to end her marriage to her husband, Rick, and move on from their life together. Even though they have a sweet baby together, she's not in this anymore. She's telling her family that she's done with him and that he is in Paris without her, and that's all there is to it.
What's Happening on The Bold and the Beautiful
Holiday season is in full swing, and we can't wait to celebrate on #BoldandBeautiful! Make sure you tune in on Tuesday, December 25th! pic.twitter.com/w3dtjpnUOL

— Bold & The Beautiful (@BandB_CBS) December 20, 2018
This is one show where people love to celebrate together, and this is one of those times when you just know that things will work for you. They are going to bring the heat next week, and this is just a small preview of that. Don't forget to tune in to see what happens in the coming days.
What's Next on the Bold and the Beautiful
Feel ALL the feels of the season this week on #BoldandBeautiful! ✨ pic.twitter.com/zKIg88JYUD

— Bold & The Beautiful (@BandB_CBS) December 16, 2018
Liam has a choice to make, and we can assume it will not be an easy choice for him to make. His wife has given him a choice. He can spend the holidays with her, or he can spend them with his daughter and Steffy, but she will not attend the holiday gathering if Steffy's mother will be in attendance. And since Steffy wants her mother there to celebrate with her considering she has no other family, this is not an option for her. Now Liam has to make a choice, and we have a very good idea that this might confuse him. We all know he has a terrible history of being forced to choose between Hope and Steffy, and he wasn't prepared to need to do this again. He's also really not happy with his wife and her decision to behave this way. Things aren't working out for him, but we can't help but wonder how he will handle this.
Will he face this decision the same way he faces all the decisions he has to make when Steffy and Hope are concerned, or will he actually make a good decision for once? Will this be different since he's not actually choosing between the women for once? He's merely choosing his own daughter, and we are all pulling for him to make the right decision when it comes to that. If he chooses his wife over his daughter for her first Christmas, we hope Steffy makes him suffer for it. And Hope should be ready for that.
Stay tuned for more The Bold and the Beautiful and be sure to check out TVOvermind daily for the latest The Bold and the Beautiful spoilers, news, and updates.