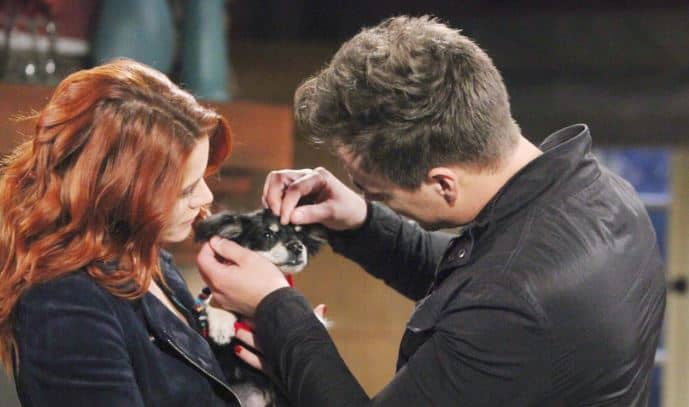 The Bold and the Beautiful fans are glad last week is over, and we are all trying to remember the last time we went through a week this difficult. It all began when Hope woke up from childbirth and wanted to see her baby. She was so excited. She just remembered pushing and then blacking out. When she came to, her husband was there and for just a split second, all was right in her world. She was a woman who was happy and content, and she was ready for her baby to come to her so she could be a total family for the first time. And then her husband told her that the baby was in distress during birth and did not survive. Her own daughter did not live through her own birth, and Hope was crushed. She's never felt such immense pain in her life, and her family is rallying to support her.
Reese also had a rough week thinking he might lose his own daughter. Zoe is in danger because of whatever it is her father is involved in, and he has to find a way to save her if he hopes to find any peace in his own life. He's struggling right now, and that makes sense to us. For now, though, he's trying to put that aside and focus on his feelings for Taylor. Taylor, who is now friendly with Brooke after they agreed to come together for the sake of their kids, who is also feeling quite good about him, too. There's little that they can do to make amends, but there is nothing that they can't to see where their future will take them. He has to get through this situation of his, and she has to be there for her own daughter, but there is a chance they can make this work.
What's Happening on the Bold and the Beautiful
EXCLUSIVE: 30 Rock's @KatrinaKBowden Makes Her Debut as Flo on @BandB_CBS! https://t.co/IZ77HtmHRR

— TV Insider (@TVInsider) January 11, 2019
And there you go. There's the twist we've all been looking for and the twist we aren't sure we can handle. What about this, fans?
What's Next on the Bold and the Beautiful
One mother struggles with grief while another reaches for a dream. ✨ See what happens this week on #BoldandBeautiful! pic.twitter.com/72UOlrXP9L

— Bold & The Beautiful (@BandB_CBS) January 13, 2019
It turns out that things are just not going to turn around for Reese anytime in the near future. He's going to deal with things the way he's been dealing with them, but he's also going to find that he has a problem showing up that wasn't here last week. As if he wasn't dealing with enough in the past few weeks, he's finding that a woman from his past is about to show up and knock on his door – and we have to go with the fact that he might not be very happy to see her standing there. Who she is to him is unknown to us at this point, but we suspect that she's a hot mess who is not there to make peace with him.
Liam is going to make a promise to his daughter and Steffy to always be there for them. We don't know why he feels he has to say that to them, though. He's the father of this little girl, so the fact that he is always going to be there for the two of them shouldn't be something he has to announce. It should be done in his actions. And if his actions aren't proving that, he needs to work harder. To us, it seems more like he's saying to them that he needs to be there for his wife right now, so they're taking a backseat. Doesn't it seem like that is how it is coming across at the moment?
Stay tuned for more The Bold and the Beautiful and be sure to check out TVOvermind daily for the latest The Bold and the Beautiful spoilers, news, and updates.