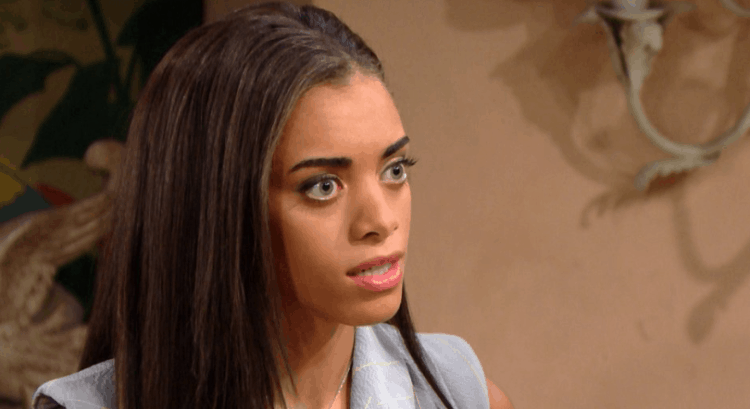 The Bold and the Beautiful fans are not sure how Thomas is going to carry on with this situation. He is so upset, and most of that upset comes for his sister. He cannot believe that this is happening to her. She's been through so much in her life losing her twin, losing a baby she carried while she got back on a motorcycle in a moment of frustration, losing her husband, losing everything she ever loved. She's had a rough go of it, and now she's about to learn that the baby she just adopted is not hers to adopt. She's going to feel her heart break and her world crash. Even though her own daughter gets to keep her sister in all of this, it's going to change everything and everyone. And we also feel that this secret is not going to remain a secret much longer.
Wyatt suspects that something is going on. He's seen his new girlfriend, Flo, and her friends Zoe and Xander together a lot. There is a lot of conversation he cannot hear. He can feel the tension, and he knows that they are keeping something from him in some way. He's not a fan of whatever is going on, and they know that. They know that there is nothing they can do to make this right, and they know that there is nothing they can do to stop this from becoming a situation they can endure. But, for now, they also have to figure that there is more to this than meets the eye. He is demanding answers, and he wants them right now. He's not happy with the way things are going, and he is not sitting back while they spend another moment keeping things from him. And he will tell the truth.
What's Happening on the Bold and the Beautiful
Gina Rodriguez's Husband Joe LoCicero Joins The Bold and the Beautiful https://t.co/oQ2gZd9c8L

— People (@people) June 10, 2019
This is going to be good.
What's Next on the Bold and the Beautiful
https://twitter.com/BandB_CBS/status/1137721006955491328?ref_src=twsrc%5Etfw
I'm sure everyone is going to be shocked to know that Ridge is worried. He's worried for his marriage to Brooke. They do not see eye to eye on anything anymore, and they disagree about what is best for their kids. They both make it such a habit to involve themselves in the personal lives of their children to the point that they cannot even be in the same room as one another without arguing, fighting, and doubting their love for one another. It's bad news for them, and we cannot decide how they want to make it work. For now, though, we can just sit her and rest easy in the fact that we have so much more to consider. He's worried, and he has no idea just how different things are about to become.
And then there is Thomas, and his change of heart. He's got some stuff on his mind, and it's going to shock Xander, Zoe, and Flo. What this tells us is that he is not going to say a word about baby Beth/Phoebe to anyone. We honestly think that it's the hurt and pain that he knows it will cause his sister that has him changing his mind, but what do we know? It might be so much more than that, but it might be so much less than that at the same time. There's a lot happening here, and we get that. But, when is enough enough? This baby needs to be given to her parents.
Stay tuned for more The Bold and the Beautiful and be sure to check out TVOvermind daily for the latest The Bold and the Beautiful spoilers, news, and updates.