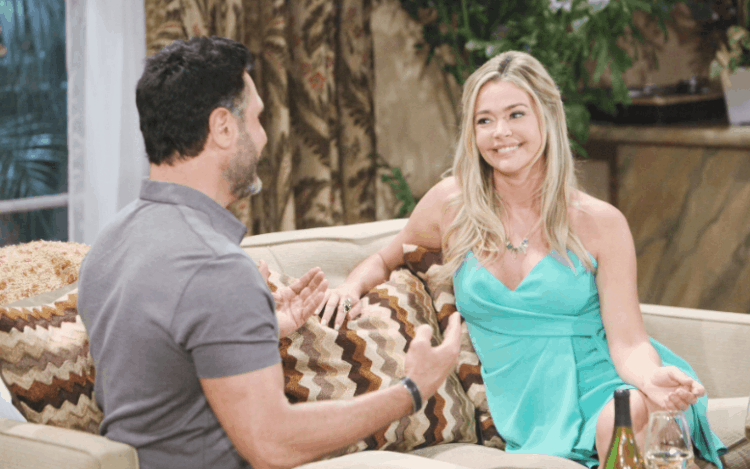 The Bold and the Beautiful fans are not sure that Katie's plan is a good idea. Brooke is supporting her, and they have asked Shauna to take part, but Brooke worries. She worries that her sister will not end up with the answers she wants. She wants to know if Bill is loyal to her, but she also just told him that she's not that interested in pursuing anything else. She's sending some mixed signals, but Shauna is not sending any mixed signals at all. She is the one who is not sending anything other than a few signals that make much of a difference, and we cannot handle the fact that we don't know what might happen otherwise. There's so much going on that we cannot figure out, but this is not a good plan. Shauna's only saving grace here is that she's not looking to jeopardize her newfound lifestyle for anything.
Meanwhile, that's the other problem. Her daughter is being eaten alive by guilt, and she's over here working with Zoe to keep her quiet. If her daughter admits that she did this thing to Hope and Liam's baby, she will never get to be with Wyatt. She will also never get to be a part of this family she only just found out she is a part of. She cannot jeopardize that, and her mother will not let her. Her mother loves this new lavish life she's living thanks to her daughter's paternity, and she's not willing to give it up just so Hope can feel better and get her husband back. She feels that Hope will get over it, have another baby one day, and things will be just fine even if she doesn't end up with Liam. But, Flo cannot live like that. She's struggling.
What's Next on the Bold and the Beautiful
Wicked games could backfire this week on #BoldandBeautiful! 💥 Don't miss it. pic.twitter.com/CRIQ7ukcmv

— Bold & The Beautiful (@BandB_CBS) May 12, 2019
Katie is putting herself into a horrible situation right now. She's asked Shauna to go out of her own way to try and seduce Bill, and she wants to listen as she does it. And no one feels that this is a good idea. They feel they want to support her, but they don't think that what she is doing is a great situation. They are sure she's going to end up hurt and upset by this, and she's sure that she's going to be angry about the rest of the stuff that is going on. She's listening to the man she loves as he is being seduced by a woman he's been with before, and she's only hoping that he doesn't fall for it. Justin, Brooke, and Donna are all worried, which is not a good sign.
Meanwhile, Shauna is just living her best life. She likes Bill, so if Katie wants to ditch him, she might eventually be able to move on and be with him herself. She's not entirely against that. She's more concerned with the secret that she's trying to keep from everyone. Her daughter is struggling with this, and she's not finding it easy to keep her going. Flo is someone who wants to do the right thing even after doing all the wrong things. We think she would have been fine with all of this if they'd just let her live her life and not made her come back and reunite with Wyatt and all of those things. There's too much going on here.
Stay tuned for more The Bold and the Beautiful and be sure to check out TVOvermind daily for the latest The Bold and the Beautiful spoilers, news, and updates.