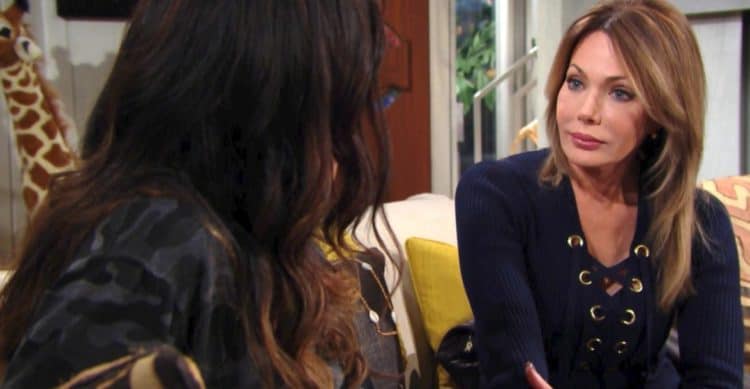 The Bold and the Beautiful fans saw with their own eyes that Bill just grew a lot closer to his youngest son. He was so proud of the way that Will was able to do what he did and turn such a quick profit. They bonded over that, and we cannot help but feel that this might not work out into one of the best things that he's ever done. We are a little worried that there might be something that doesn't work well for them, and it might have to do with the fact that his son might now become obsessed with the idea of making quick money to impress his father. We can see how this would lead into a territory that might be more than a little dangerous, but no one seems to realize that at this point. We don't know if this will work, but we can hope that there is some chance people can do things right.
Furthermore, Steffy loves the idea her mother brought to her. The idea of adopting another baby and giving her child a sibling is a beautiful idea to her. She feels it is something that will make their home happier, their live richer, and their hearts bigger. She's not wrong, but we also think that there is a chance that this situation might not be anything near what it seems. There is a good chance that this baby is not what it seems, and this is not a situation that is going to play out the way it's meant to play out. We just don't know what might happen, and we are a little worried that this entire plot is something that will not be up and up. And we worry that it will have a profoundly negative effect on everyone involved.
What's Happening on The Bold and the Beautiful
Our #WCW is the stunning Annika Noelle. ✨ Who else thinks she's given an amazing performance during this heartbreaking #BoldandBeautiful storyline? 🙋🙋‍♂️ pic.twitter.com/9TcHA5mTrM

— Bold & The Beautiful (@BandB_CBS) January 16, 2019
She's been given the chance to play this role like a champ, and she's done just that. We love all she's brought to the table as Hope, especially in the past few weeks.
What's Next on the Bold and the Beautiful
One mother struggles with grief while another reaches for a dream. ✨ See what happens this week on #BoldandBeautiful! pic.twitter.com/72UOlrXP9L

— Bold & The Beautiful (@BandB_CBS) January 13, 2019
It turns out that everyone is making their rounds to see Hope and Liam these days, including Wyatt and Sally. While they are there, it turns out that Hope and Wyatt will take a long look back at their past. We wonder if this will make anyone feel uncomfortable in any way. Katie is going to be very happy that her ex is being so good to their son, and she's going to talk her own husband into letting him stay for dinner. He will say yes, but we all know that this is going to turn into more than a trainwreck. However, we think that this will be good stuff.
What will be better stuff, however, is what we are hearing right now about Reese and this baby. We all know that Reese is the man who delivered Hope and Liam's baby, and she was blacked out during that time. But it turns out that he has a newborn baby who is in need of a family, and the rumors right now are rampant. Is this Hope and Liam's baby? Is this something that he orchestrated, and what is it? Zoe is already suspicious of her father, and things are taking a big turn right now. We do not know if any of these rumors are true or not, but we do know that there is something that's not quite right about any of this. And we are wondering if Steffy is going to end up adopting her ex-husband's biological daughter.
Stay tuned for more The Bold and the Beautiful and be sure to check out TVOvermind daily for the latest The Bold and the Beautiful spoilers, news, and updates.