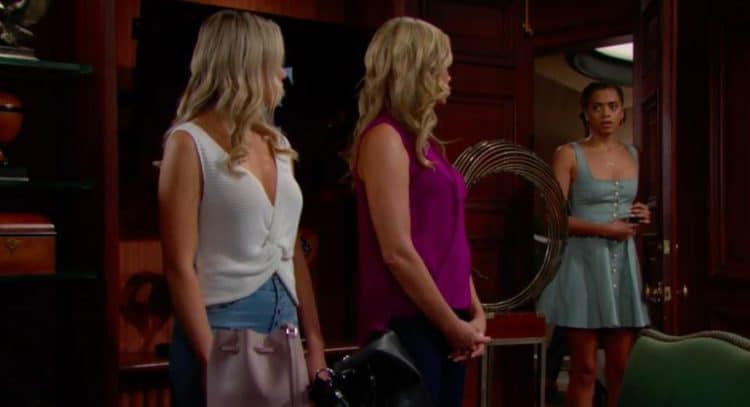 The Bold and the Beautiful fans aren't shocked at all that Shauna, Flo, and Zoe are the recipients of some horrible behavior by Brooke. Additionally, we can agree with Brooke for the very first time in a long time. For once, her anger is not misplaced. These women did a horrible thing to her family. They not only stole a baby from one woman and her husband, they inadvertently stole the same baby from another woman and her own family. Hope is not the only woman to lose this baby. Steffy now has to face the loss of a daughter as she has no idea this baby was not up for adoption and not Flo's baby to give away. Brooke is furious, and she's turning her fury on these women in a rightful manner. And we don't blame her. She's got a lot to deal with, and it's all ugly.
Meanwhile, Liam and Hope had no idea just how far this went. Hope is learning the truth as she goes, and she is shocked to find out that Zoe and Reese were both involved in this. It's an ugly situation that will not make her feel good about her life, and it's one that will always make her feel as if there is nothing for her to do other than feel angry. There is on way in the world anyone will ever forgive these women for what they did. Hope is also finding out that Thomas knew this for many months and chose to say nothing about it to her. She will never, ever forgive him for what he did to her, and she will have their marriage annulled before the marriage license even has time to get to the clerk of courts for filing. She will never forgive anyone for what they did to her.
What's Happening on the Bold and the Beautiful
When you realize Steffy still doesn't know the truth…. #BoldandBeautiful pic.twitter.com/I9jcMiuPYs

— Bold & The Beautiful (@BandB_CBS) August 6, 2019
We can say our hearts hurt for her and be sure we can speak for everyone as well.
What's Next on the Bold and the Beautiful
One woman's miracle becomes another woman's heartbreak. 💔 It's a can't-miss week on #BoldandBeautiful! pic.twitter.com/C14G0jGUvM

— Bold & The Beautiful (@BandB_CBS) August 4, 2019
Brooke is not done with the three women who covered up the non-death of her granddaughter and ruined her daughter's life. She has questions, and she expects honest answers for once. She's convinced she will make them all pay for what they did to Beth, to Hope, to Liam, and even to Steffy and the rest of their family. Brooke might not agree with her husband that Steffy has any right to this baby, but she does know that her heart must be in a breaking state right now – well, when she finds out the truth about what happened to her baby who is not her baby. Brooke is not letting these three women out of her sight until she's decided they gave her everything she needed to know. She's mad; and she's letting them know it.
On the other hand, a heartbreaking situation is happening right now. Hope and Liam have to tell Steffy that the baby she adopted and made her own is not her baby to adopt. That baby does not belong to Flo. That baby belongs to Hope and Liam, and it is their little Beth. They are beyond happy about this, but they know that they are about to break Steffy's heart with this news. She's losing a daughter. She knows her daughter is going to gain a real sister rather than an adopted one, but she will never be the same again when she finds out this little girl is not really a little girl she has any rights to.
Stay tuned for more The Bold and the Beautiful and be sure to check out TVOvermind daily for the latest The Bold and the Beautiful spoilers, news, and updates.