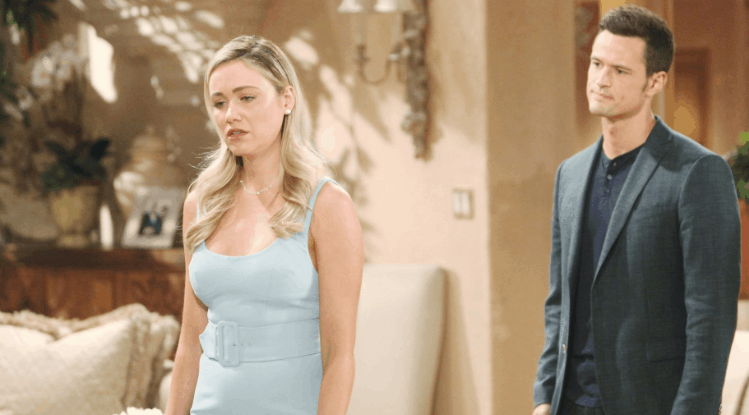 The Bold and the Beautiful fans know that Thomas knows the truth about baby Beth now, but he's accusing Flo of lying to him. There is no way he is going to believe that she lied about the baby she had, took Hope and Liam's baby, sold that baby to Steffy under the pretense of an adoption and moved on and into this family like this. Even Thomas, who is working his every single angle with his own son to try and break up a marriage so he and Douglas can have Hope to themselves, doesn't believe this story. He's confronting Hope about her lies, but he is also about to find out that her lies are not that. They are the truth, and now one more person is aware of this. And we all know that telling Hope her baby is alive is going to make Hope the happiest woman in the world, but it also means he doesn't get what he wants. So, he won't tell her.
But, so many people know now. And so many people will make this difficult situation even more difficult. Eventually, it will come out that baby Beth is alive and well, and it will crush so many people in the world. For now, though, we are also going to focus on the fact that we have to see Brooke and Hope fighting again. Brooke is fighting harder for Hope's marriage than anyone, and she doesn't see that her daughter is not into it. She's not happy with Liam now that her baby is dead and their future is not the same, and Brooke needs to realize this, move on, and give it on up. She's not in the middle of this marriage, and she's not meant to get into it.
What's Happening on the Bold and the Beautiful
Will Xander tell the truth or protect Zoe? Reply 👍 if you think he should reveal the secret and reply ❤️ if you think he should put his love for Zoe first. #BoldandBeautiful pic.twitter.com/SFrz3YEdYL

— Bold & The Beautiful (@BandB_CBS) June 5, 2019
He needs to tell the truth.
What's Next on the Bold and the Beautiful
A truth bomb could lead to disaster on #BoldandBeautiful. 💣 Tune in this week to find out what happens! pic.twitter.com/YVuKqQCspi

— Bold & The Beautiful (@BandB_CBS) June 9, 2019
It's going to be an ugly day around here. Xander wants to share the truth about the baby, but Zoe is making him feel horrible about it. She is afraid of going to prison about the entire thing, and now she is using an ugly ploy to make him feel guilty. She is demanding to know whose side he is on, and we cannot figure out what this means for them. There is so much that might make them feel worse about themselves than this, but we get it. We get that they have more to lose than just about anyone. We get that she is in big trouble. But, then there is Thomas, who finally believes that Flo told him. He is stunned. He is more than shocked. He is not sure what to do, but he is angry.
Not only does a woman he cares about not know that her infant is not dead, but his own sister is now the mother of this baby. His own sister has been raising this baby since she was born, and that baby is her own stepsister's child. Thomas knows that the outcome of this entire situation will crush so many people that he cannot even get ahead of it and make it work. His sister will be destroyed to lose her daughter, and Hope will be destroyed to know she lost all these months with her own child. It's too much for him to bear. He cannot handle this knowledge, and he's not sure what to do about it.
Stay tuned for more The Bold and the Beautiful and be sure to check out TVOvermind daily for the latest The Bold and the Beautiful spoilers, news, and updates.