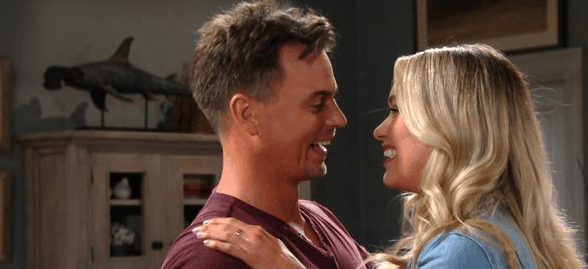 The Bold and the Beautiful fans are on pins and needles. No, not because we are worried about Brooke and Ridge. We are beyond caring at this point. They play the same game with one another every time we turn around, and we are so over that. We are on pins and needles because there is more going on that this. There is something that might just change the way they are living with one another that absolutely must be addressed. We don't know how to put our fingers on it, but we do know that they have something to look at from another angle. Pam gave Brooke some news about what she feels may have happened to Emma. And she ignored it for all intents and purposes because she's too mad at her husband. They cannot agree, but that means they are not paying attention.
Thomas is panicking. He heard Hope call Phoebe by her own dead daughter's name, but he knows that this baby is her baby. He's panicked because he is not sure what to do. Emma lost her life because of this secret, and now he is worried. Sally and Wyatt broke up for good, and everyone is a mess right now. There is so much going on, and only Liam and Steffy really seem to be enjoying their lives. He is happy to be with his daughter and her sister whom he will father to be a kind man. And he is happy to be with Steffy. She's happy to have help with the babies, and Hope is watching them live a life that might be what she always wanted. It's crushing her, but Thomas won't stop going against her wishes to make her his. It's all ugly, and we are all waiting for the bottom to fall out of this mess.
What's Happening on the Bold and the Beautiful
😱😱😱 #BoldandBeautiful pic.twitter.com/tX8ZEuBtOn

— Bold & The Beautiful (@BandB_CBS) June 27, 2019
Is this the big moment?
What's Next on the Bold and the Beautiful
This Fourth of July, come for the fun and stay for the fireworks! 💥 Don't miss a minute of #BoldandBeautiful this week. pic.twitter.com/XTVsSIEhaU

— Bold & The Beautiful (@BandB_CBS) June 30, 2019
So, we don't know yet what might happen on Monday or in the next week, but we do know that there is a chance someone is going to find that an old flame is going to spark. We cannot, however, figure out who that might be. You see, there are so many people it might be. It might be Bill and Katie growing closer and stronger than ever. It might be Brooke and Bill since she did just meet with him. Perhaps it is Taylor and it is Ridge, since his marriage is basically horrible and almost over thanks to he and Brooke and their inability to focus on anything other than the lives of their kids. But, maybe it's Sally and Wyatt. Or maybe it's Liam and Steffy. Maybe it's Eric and Donna. We don't know what it is, but someone is about to find that they are fanning a flame that never quite burned out.
Also, in the more immediate future, Thomas is panicked. What does he do? The woman he feels he is in love with just called her own baby by her real name, even though she feels her baby is dead. He doesn't know how to handle this, what to do, or where to go with this. It's a situation that is not going to make anyone feel comfortable – at all – and it's one that might just cause more harm than good. Does this mean something else will happen? We don't know, and we cannot tell, but we do know that things are unfolding faster than some people might prefer.
Stay tuned for more The Bold and the Beautiful and be sure to check out TVOvermind daily for the latest The Bold and the Beautiful spoilers, news, and updates.