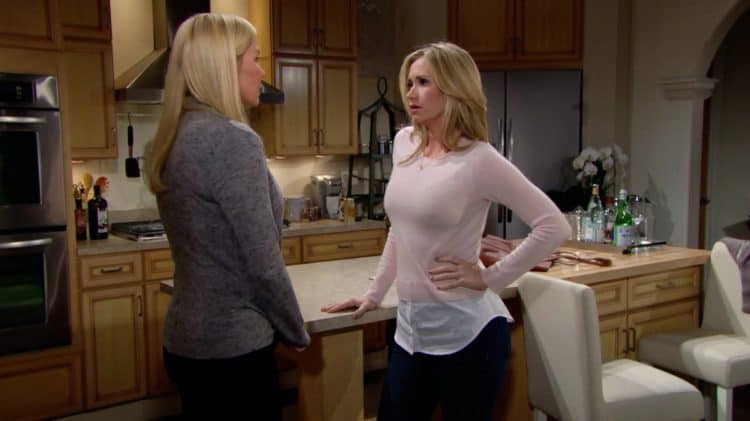 Bold and the Beautiful fans get what Flo is upset about. Her mother is falling for Ridge, who is married to her half-sister, Brooke. Her sister hates her, too. It's not a good situation for anyone, and we cannot do anything but watch this trainwreck unfold. Her mother wants to be with Ridge. They are keeping a secret with one another right now. She is there for him as his marriage is falling apart, and her daughter is horrified this is happening. She is not happy about any of it because it all means that there is a situation she cannot control. Her life is already causing this family to want to disown her right after they found out she was related, and her mother's actions will only make her own situation with her new family worse. She's not happy with Shauna right now, but she doesn't care how her daughter feels.
Brooke is not happy with Thomas, either, and their fight on Friday was a big one. She didn't hold back a thing she felt or she was thinking, and we are shocked that she let go that much knowing his mental health is in such a volatile place. However, she's not all that kind in the first place, so that means she might have some bigger issues to deal with. She's a mess, there's that. But there is also so much more going on that meets the eye. For one, there is nothing going on that might make anyone seem any happier than they are right now, but she can go out of her way to be kinder to her husband and his son when he is trying to get the help he needs. It's too much.
What's Happening on Bold and the Beautiful
Congratulations to @THEEdarinbrooks and @KrugerKelly! 🎉 These two are the proud parents of a beautiful baby girl. 🎀 Please join #BoldandBeautiful in congratulating them below! pic.twitter.com/vLyg4PcSKm

— Bold & The Beautiful (@BandB_CBS) September 26, 2019
Can we get a huge congratulations to these two and their new little family?
What's Next on Bold and the Beautiful
It's the moment no family should ever have to face this week on #BoldandBeautiful. 😢 pic.twitter.com/vQSjda39bE

— Bold & The Beautiful (@BandB_CBS) September 22, 2019
We are all heartbroken and sad for Katie and her family. The fact that she is being faced with a kidney transplant to keep her alive means we have to worry about her. The meds she had to take when she had a heart transplant a few years ago did this to her, and she will not make it if she doesn't have this transplant right away. Things are not looking up for her right now, but she is not going to give up without a fight, and her family is never going to allow this to change her life for good. They will do anything they can to make sure she gets what she needs, and we have a feeling this is going to be something that either Flo or Shauna is able to do for her so that they can win their good graces back into the family. It's the only way that it will work — so we said it here first.
Of course, we also know that Thomas is a mess, and he is not looking to get help. He's looking to get rid of his family and the Logan family once and for all, and he will do it by himself. He should have been locked up, and Ridge should not have interfered with things the way he did. We might not like Brooke's approach to this, but we do believe she is not wrong in thinking he clearly needs more help than he is going to get around here. He needs the help, asap.
Stay tuned for more The Bold and the Beautiful and be sure to check out TVOvermind daily for the latest The Bold and the Beautiful spoilers, news, and updates.