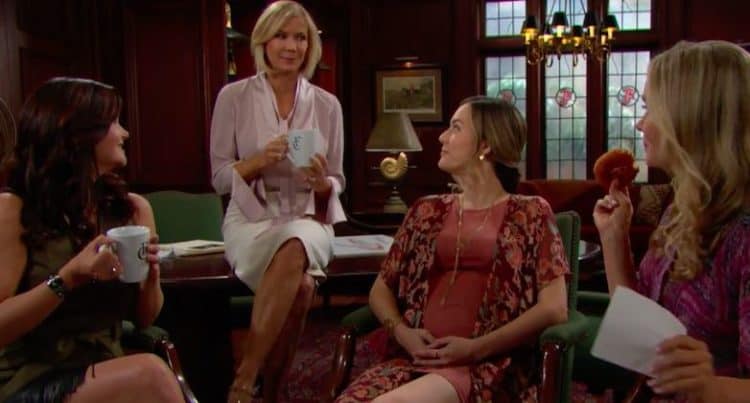 The Bold and the Beautiful fans watched as Zoe decided to talk to Xander about her father's interest in Taylor. She has her concerns, nothing short of the fact that she doesn't want her father to get involved in her life more than he already is, but she's also leaning on a taken man. She's not doing anything right when it comes to respecting him and his relationship with Emma, but she doesn't care, either. She's not worried that this is going to affect her in any way, shape or form. She's not someone who cares at all what people think of her and how they live their lives, and that is one of those things that just works out well for her but not for Emma in this situation. Emma is going to lose him. In fact, the amount of time he spends being in intimate situations with Zoe knowing how it makes Emma feel regardless makes us think that she's already lost hi him, but that he is just not ready to admit that to himself at the moment.
Liam and Steffy are arguing — yet again — about her mother. He's not convinced that her mother is someone who should be alone with their daughter. He is worried that she will do something awful to this baby, and he is arguing that her visits should be closely supervised by them or someone else they trust. Meanwhile, Steffy knows her mother would never do anything to hurt this baby, and we are more than a little inclined to agree. We just can't figure out why what Taylor did is suddenly such an issue for all the people who knew about it months ago. Additionally, we think that Steffy might just be wondering the same thing. Why is she dealing with this right now?
What's Happening on The Bold and the Beautiful
Remember when #BoldandBeautiful was on location in Paris? Tell us what Liam was doing in France for #TravelTuesday! 🇫🇷 pic.twitter.com/q9krn0qeP0

— Bold & The Beautiful (@BandB_CBS) December 11, 2018
Do you know that Liam was doing in Paris when this photo was taken? We might have an idea of what he was doing, but we aren't sure that you know that yourself. Can he make this seem like a better photo? We think not.
What's Next on the Bold and the Beautiful
The sure bet, the ace in the hole and the wild card 💥 Don't miss a minute of #BoldandBeautiful this week! pic.twitter.com/ogaVPmjQ6R

— Bold & The Beautiful (@BandB_CBS) December 9, 2018
It looks like this might just be one of those big days for Taylor and Reese. She's aware that he is into her, and she's not sure how she feels for him, but she's going to open up. She's going to share that she has some issues with Brooke and that they go way back into their much younger days trying to hurt one another and fighting all the time over the same petty stuff. They haven't had their own lives to live since meeting one another, and that's their news with one another. The good news is that while she is bearing her soul to him, he is going to kiss her and make her feel that she is the most important person in the world. This is good for her, and we think that it might just make a big difference for all involved. There is a lot happening here, and we appreciate that.
But will she return that kiss? Will she be willing to get involved with a man who might want to stay in this town and make things permanent? She has been gone a long time, and that's something we don't think she wants to do. She's been living her own life in her own world for a long time, but being her with another man she cares for and being around her granddaughter might chance her life and her mind about all of that. Will she stay? Will she allow this to go any further than it's already gone?
Stay tuned for more The Bold and the Beautiful and be sure to check out TVOvermind daily for the latest The Bold and the Beautiful spoilers, news, and updates.