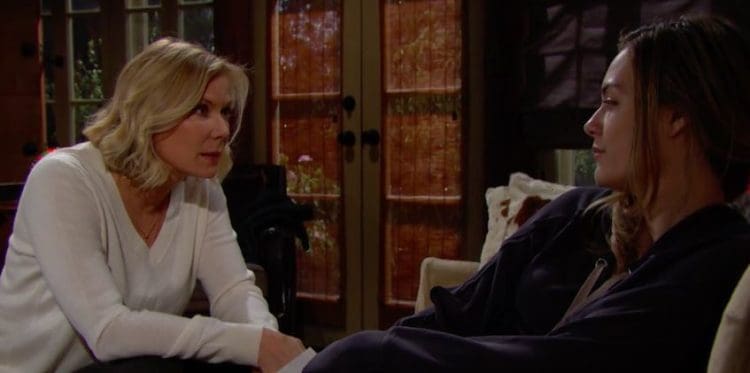 The Bold and the Beautiful fans are not surprised that Flo doesn't trust Reese. None of us do at this point. He's clearly someone who has an agenda that is very much his own, but she's also known him a lot longer than anyone else who is around here. What does this mean for her? Could it mean there is certain danger ahead for her in that she knows him and he is making things difficult on her? And what about his motives? Is he really trying so hard to do things to make people miserable on purpose, or is he working so hard on all of this because he feels it is the only way to keep his own daughter safe? Whatever it is he is doing, no one trusts him at this point in his life. He's not someone we like or trust anymore, and that's not going well for him.
Steffy is being sensitive to the needs of Hope and Liam right now, but she's also not willing to give up a dream she has so that they don't feel sad. She has this opportunity in front of her, and she wants to take it. She can see her life with this other baby with her, and she can see it happily. She's almost ready to take that situation and make it her own, and she's going to do what she can to make that happen. She's not going to give it up but she does remember that things will be very sad for Hope when Steffy ends up with two babies while Hope has none. She won't let this affect her, however, and that's something we have to keep in mind. For now, though, this is going to be a situation that unravels quickly.
What's Happening on The Bold and the Beautiful
We thought you guys might have some questions for @CliftonsNotes and Annika Noelle after their amazing performances during this storyline, so they're taking over! 👏 They'll be on the #BoldandBeautiful Instagram story answering fan questions at 1:30pm ET/10:30 am PT. pic.twitter.com/NeOg0gh7PW

— Bold & The Beautiful (@BandB_CBS) January 21, 2019
If you ever wanted to ask them some questions about their lives and their characters and how they are dealing with this enormous loss in their lives, now is your chance to do just that.
What's Next on the Bold and the Beautiful
Taking risks can be deadly. 💥 Don't miss a minute of #BoldandBeautiful this week! pic.twitter.com/W7dyUiFFAI

— Bold & The Beautiful (@BandB_CBS) January 20, 2019
Florence, it turns out, is not the pushover that her friend Reese might think she is. When she confronts him about what she suspects he is up to and what he needs her for, he is going to try and justify his decisions and his behavior. He will try to explain himself in a way that makes some sense to her, but we don't think that there is much he can do and much he can handle in the meantime. We aren't sure at all what might be happening here, but we are certain that there is more going on than he is willing to admire or that she even suspects. However, we did enjoy seeing that she's not about to lie down and make it a mission of hers to be his you-know-what.
Wyatt is also going to want to get some answers. He wants to speak to Steffy about her plans to adopt a baby, and he thinks that she needs to take some more time to consider this. He's not sure she's making the right decision, and he's trying to be a supportive friend in asking her to think about what she's up to and how she's going to do this. But we have a feeling that she's just not all that interested in hearing what he has to say, and this might be one of those things that doesn't work well for her in some capacity. Of course, that could all change when the deal is done.
Stay tuned for more The Bold and the Beautiful and be sure to check out TVOvermind daily for the latest The Bold and the Beautiful spoilers, news, and updates.