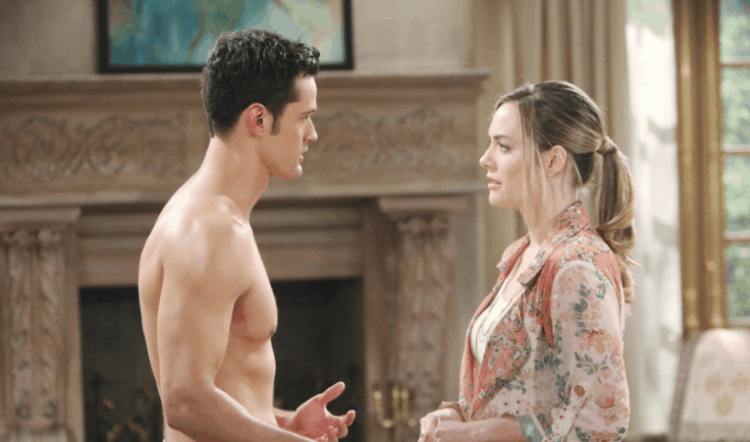 The Bold and the Beautiful fans are not sure why Hope will be stunned when Thomas finally kisses her and tells her that he loves her and wants to be with her. She's not been paying much attention to what is going on around her at this point, we suspect, and that is something we cannot handle. She was horrified when he did that, and she was genuinely shocked that this is what happened. She seems to forget that she did the very same thing to Liam last year when he was married to Steffy and things were not on a good note with them. She's now the recipient of that kind of ugliness, and she's not sure how she feels about it in the moment. We have to say we think that it's a thing, but she's not that worried about it, we suspect.
For now, though, she has a decision to make. Then there is Wyatt, who suspects Sally is keeping a secret and things are not good for them. He cannot keep this inside any longer, and he has to know. He's going to ask her about it in a confrontational manner, and she will open up to him about what it is that she is keeping from him. He will be nothing short of floored when he finds out the truth, but will he ever realize that it's his mother's meddling that puts him in these situations all the time? Probably not, but that is not our business. We cannot help but wonder if there is a greater plan in place. Will Hope leave her husband for Thomas? Will Sally and Wyatt work with Quinn making them miserable and with Flo around? We don't know, but the truth will come out sooner rather than later.
What's Happening on The Bold and the Beautiful
She 👏 did 👏 that 👏 Congratulations @JacquelineMWood from the #BoldandBeautiful family 💙 pic.twitter.com/T2aRxaQ6x7

— Bold & The Beautiful (@BandB_CBS) May 6, 2019
After the year she had in this role, she should have been given this statue months ago!
What's Next on the Bold and the Beautiful
A bold move ignites an epic battle. 👊 See it all this week on #BoldandBeautiful! pic.twitter.com/RR789Nd7xr

— Bold & The Beautiful (@BandB_CBS) May 4, 2019
Things are taking a toll on everyone around here, and once again, it's Ridge and Brooke who will suffer the most. They cannot stop putting themselves in the middle of their children's lives. They should just stay out of them, but they cannot do that. And that means they are fighting over them again. Now that everyone knows that Thomas is in love with Hope, it's a problem. Brooke wants Ridge to get his son under control, and he wants her to let the kids work out their own issues. Meanwhile, we are sitting here wondering what will happen when Liam gets the call from his brother, Wyatt, after he hears what Thomas is up to. He will not be pleased to spend this time in Paris with his children and have it ruined by his own brother-in-law.
He will probably come home and leave the girls, but maybe he will not. Maybe he will sit back and let his wife make her own decisions. She already told him they were done more than once, and maybe he prefers to be with his babies than he does to be with Hope and her own self-induced drama and problems. Maybe he'd rather be there for the girls who need him than the woman who wants to push him away. He doesn't have to be with Steffy to be with his girls – at least not in a romantic manner or situation of that nature. He can do this, and maybe he will do this and make himself happy for once.
Stay tuned for more The Bold and the Beautiful and be sure to check out TVOvermind daily for the latest The Bold and the Beautiful spoilers, news, and updates.