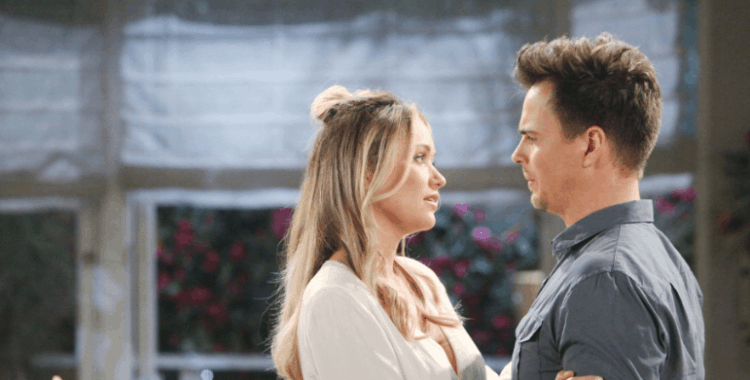 The Bold and the Beautiful fans are talking about the same things over and over. For one, Brooke and Ridge are in the middle of a fight in their own marriage cause their kids cannot get it together. It's Hope, again, and that seems to be something that she and her mother have in common. It might also be one of Ridge's kids, but at least it's not the same one as always this time. His son has no right to try and move in on a married woman, but she's made it clear she is open to that by sharing a kiss with him and by telling her husband repeatedly over the past few months that their marriage is over in every manner of speaking. That is something she made the decision to do, and there is little that Liam can do about it. Wyatt and Sally ended things because she was keeping Thomas' secret. Quinn could not be happier about any of this.
Flo's guilt is growing by the day, and it should. She is the reason that Liam and Hope's marriage fell apart. She is the reason that they think their baby is dead and Hope shut down. She is the reason that Hope bonded so much with Thomas' little boy and put them in this situation. She is the reason Quinn suddenly began working so much harder to break up her son and Sally. She is the reason that everyone is fighting and unhappy, and this is her doing. She needs to get her life together, and she needs to let that guilt make her do the right thing. But then her guilt will be on her mother for taking away what she feels is her new amazing life. And we aren't sure she can take that from her mom.
What's Happening on the Bold and the Beautiful
Do you think this should be Hope's future? #BoldandBeautiful pic.twitter.com/XBcX8brNJC

— Bold & The Beautiful (@BandB_CBS) May 10, 2019
This is a disgusting use of a child's imagination — when you consider how it's being used to manipulate a woman into leaving her husband.
What's Next on the Bold and the Beautiful
It's a full-house Friday at "The Talk!" with @BandB_CB's @Denise_Richards plus @tomellis17 and @RachaelEHarris from #Lucifer stop by the table, tune in! pic.twitter.com/Jg9RWelgiH

— The Talk (@TheTalkCBS) May 10, 2019
Wyatt is not making us very happy right now. He and Sally are the couple that we want to see together, and this situation with Flo is not one we like. We know what she did, and we know who she is, and we don't like it. And we don't want to see him hurt by once again doing what his mommy wants him to do. She's pushing for him to be with Flo, and she's allowing those feelings to get to her, too. She knows what she did to his friend Hope and his own brother, Liam, and she knows that this is not something that she can ever be forgiven for, yet she is going to move forward and play off the sparks that are flying between them. There is nothing we dislike more than seeing Wyatt hurt when he is such a good guy, but his mother 'knows' what is best for him, yet he is the one who always ends up hurt when she gets her way.
Meanwhile, Hope is caught in the midst of her own love triangle as Thomas continues to do anything and everything he can to win her, while Liam works to save his own marriage to her. She really should not sit back and make these two men live this life. She's making them miserable, and she's not doing anyone any favors. She's a mess, and she's making their lives a mess, and she has no right to do this to them after Liam did it to her and made her feel the same way.
Stay tuned for more The Bold and the Beautiful and be sure to check out TVOvermind daily for the latest The Bold and the Beautiful spoilers, news, and updates.