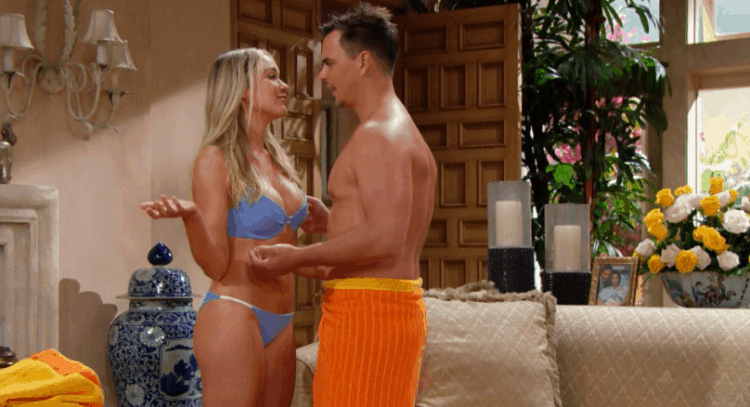 The Bold and the Beautiful fans spent another half hour watching Zoe and Flo argue, which is now months. They must have just put them in the same room and filmed them with multiple costume changes over time to make it seem that they are all at different times, because two people cannot have the same argument this many times about the same thing and continue to walk away without any sort of solution to the problem. It's getting a little old, it's getting more than a little tedious, and we are not impressed with this line of conversation any longer. We are just not happy with the way things are going, with the way that things are being portrayed, and with the way things are going to work for them. We are just bored with this. We can write down their argument with our eyes closed before it happens.
They want to tell the truth. The think that this is awful, and they both feel terrible for Hope. They know she's struggling hard with the loss of her daughter. They know she is a mess. They know she is giving up her marriage to Liam because of this. They know Steffy is happier than ever now that she has a second baby, and they know that her own happiness will be ripped from her if she finds out this baby is Hope's. They also know that everyone will be upset with them for not telling sooner, and they know that this will blow up in their own faces. So, they are back to the conclusion that it's personally better for them to keep this to themselves and say nothing to the parents of this little girl who is not dead. And this will not be the last time we see this argument, either.
What's Happening on the Bold and the Beautiful
Brooke makes a good point… #BoldandBeautiful pic.twitter.com/rX6nbRbZpT

— Bold & The Beautiful (@BandB_CBS) May 29, 2019
Can we take a moment to sit back and appreciate this gem of a piece of advice coming from this woman, of all people?
What's Next on the Bold and the Beautiful
The lie destroyed them. Now will the truth be told? Find out this week on #BoldandBeautiful! pic.twitter.com/iMCvk3oRud

— Bold & The Beautiful (@BandB_CBS) May 26, 2019
Steffy might not want to have much to do with being with Liam and being part of that situation again, but she doesn't want to see his marriage to Hope fall apart because of her brother. Now that she knows what is going on around here, she's about to go out of her way to make a point to stop all of this and turn it into something better. She's not in the place she wants to be now that she is home, and she's about to ask her brother what on earth he was thinking using his own son to get to Hope like that. She's not sure she can quite believe that he did this or that this is the road he's chosen to take, and we get it. We get that this is not something she's willing to take part in.
Everyone and their mother overhears Flo and Zoe in the middle of their conversations about Hope's baby, and this time it's Xander. He hears them talking about Beth, and he wants to know what it's all about and what it all means. He's not in a place right now to hear the lies anymore, and he will demand to know the truth. But, will they share with him what they are talking about, or will Zoe feel that her relationship with him is going to end if she is not honest about the many things happening in her own life right now? He won't be all right with this secret if he learns about it, we can tell you that for certain.
Stay tuned for more The Bold and the Beautiful and be sure to check out TVOvermind daily for the latest The Bold and the Beautiful spoilers, news, and updates.