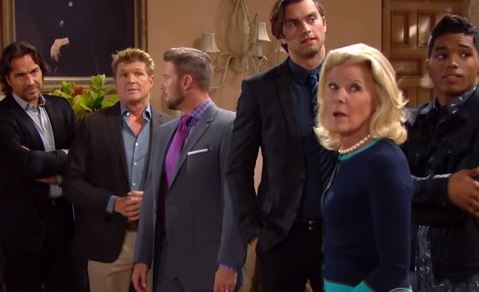 The Bold and the Beautiful fans have had a long week with all the drama that's occurred this week. Next week doesn't leave much room for a break for fans, either. There's going to be even more drama, even more issues, and even more excitement. The first thing that will happen is the bond between Eric and Ridge. It's been bad for a while, but Quinn has managed to get her husband to bond with his son once again, and she's managed to bring them together after so long apart. Of course, this is going to change big time if Eric ever finds out his son and wife had something going on, but that's for another day. Right now, this father son duo have to come up with some new designs.
After what the Spectras did to them, they're left without a line to produce. They have no choice but to work hard to come up with something as quickly as they can. We have no doubt they can do it and pull it off, but we do wonder if there is a chance they might struggle a bit with it. Can they get their act together to come up with a line that's good, or will it suffer? Will the Spectras manage to do more harm than just stealing the line from this family? Will their ability to steal the designs and show them first make this family rush to come up with a line that's subpar? Will this change everything in the family?
More importantly, how is this going to change the relationship between Ridge and Eric? They've worked on things with one another, but will they be able to really change things? The problem here is that many people are going to wonder if they'll become closer over this. Will their bond grow stronger next week? We think it will; which means it's only a matter of time before Eric finds out about Ridge and Quinn. It will happen when their bond feels better than ever. That's always how it works.