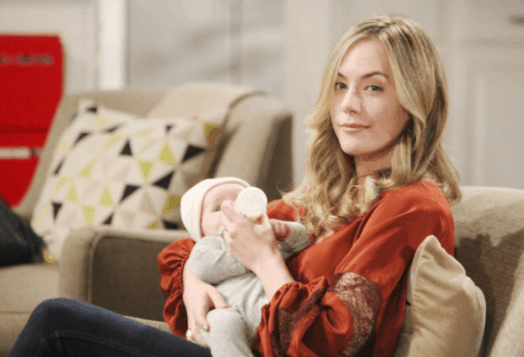 The Bold and the Beautiful is a show that's only been around for more than 35 years. That might seem like a very long time to most of us, but it's a baby in the soap world. The other shows have been around decades longer, and that's a thing. But, we also know this show has staying power. It might be short and sweet, but this show makes waves, changes the game, and it makes things known. We know that we will never find a way to get past what's happened around here, and we know that there is nothing any of us can do about some of the stuff that goes on around here. However, we also know that there are some moments that will never, ever fade from our minds as being the best.
Macy's Rebirth
Macy was a young woman that they thought was dead. Everyone was devastated, heartbroken, and hurt that she was gone after being involved in a horrible car accident. Her death was a major effect on everyone, and it was something fans felt watching the show. The moment that we all realized she was not, in fact, dead, was a mind-blowing moment for all of us. In fact, she ended up being alive and well and living in Italy after spending a lot of time 'dead' and her return was a pivotal moment for many characters. She changed the game with that one because not many people on this show die and then come back to life. This just isn't that kind of soap where people come back from the dead every five and a half seconds. This is more love and loss and backstabbing than death and murder and mayhem.
The Great Mistake
When people make mistakes around here, they make big mistakes. They don't accidentally send the wrong text message to the wrong person and find themselves in trouble. They actually, literally, make mistakes that make their lives miserable. Remember when Hope was younger and her entire life was focused on the fact that she refused to be like her mother, who slept around, got married every seven seconds, and never made good relationship choices? Hope didn't want to do anything and everything her mother did. She wanted real love, to save herself, and to not be a promiscuous woman. And that meant she was not sleeping with her boyfriend, Oliver.
She was adamant about it, and he knew it. So, the moment she and her mother showed up at a costume ball wearing the same mask, and he slept with her mother thinking it was her was beyond our level of comprehension. You see, he knew she wouldn't change her mind, and she definitely would not change her mind in a situation like that one, and yet he allowed himself to get carried away and sleep with her. Except her was not Hope. It was her mother, Brooke, and Brooke also thought Oliver was her own husband, Ridge. We don't buy that for a second.
The Runaway Bride
Do we remember that one time when Bill and Brooke were set to get married – well, at least a million times, to be quite honest – and things didn't work out? Oh, wait, that was almost every time. Well, we are talking about that one time in the Persian Gulf when he was set to marry Brooke and he was good with it, but Ridge was not. He was already mad at Bill for literally existing, and he was not about to lose Brooke to him, so he came in to the beautiful beach setting on which their wedding was being held, grabbed her by the hand, and took off running? Do you remember that? Do you remember her face when she realized what was happening, and the fact that she picked up her dress and literally just ran with him? That was a moment we will never forget, mostly because we thought they would work after that. And they did not. And then they did. And then they did not. We won't forget it because it was amazing, but mostly because it never worked for them. And it probably never will work for them, honestly.