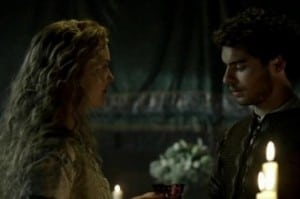 Lucrezia's return to Rome from her time in Naples should be a joyous occasion for all involved. Though it was the result of her own decision-making, the Borgia daughter had been held hostage by King Frederigo, used as a pawn to keep Alexander and Cesare from doing any further damage to the Sforza dynasty. It was the most perilous position she had found herself and should things have not turned out her way, the Borgia family could have been severely crippled by losing her, especially so soon after Juan's death. However, on the next episode of The Borgias, Lucrezia has used her knowledge of potions to escape her time as a prisoner and return to her loved ones. But will things be back to normal upon her arrival?
Not quite, as Alfonso has begun to suspect that there's more to Lucrezia's relationship with Cesare than platonic affection. He knew going into the marriage that the two were unusually close, but this is the first time that he's actually considered that there was something going on behind his back. With the exuberant reaction that Lucrezia had upon being reunited with her brother, as well as the long-gestating talk in Rome finally reaching his ears, he begins to harden around his wife and resent Cesare, making himself even more of an outsider than he already was. Alfonso entered his union to Lucrezia thinking that it was going to be a genuine marriage, determined to prove to Ferdinand that he was above being manipulated into doing something political advantageous just for the sake of it. However, that naivete about Roman politics and the game of Italian alliances means that he's left unprepared for the chance that maybe, just maybe, Lucrezia isn't fully invested in their union.
Elsewhere on The Borgias, Alexander formulates a plan with Mattai designed to restrict gun powder production, while Cesare and the Holy Father clash once again and this time, a reasoning for their tension is revealed. But who will work to mend fences between the two?
The Borgias airs Sundays at 10:00 on Showtime.
Will Alexander and Cesare mend their relationship and unite against the Sforzas? How will Alfonso begin to treat Lucrezia after his suspicions seem to be confirmed? Does Mattai have ulterior motives in trying to aid Alexander, aside from ensuring that his people aren't taxed while in Rome?