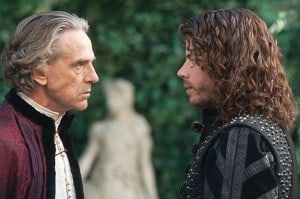 Thanks to Micheletto, Lucrezia Borgia got what she wanted, as King Ferdinand is dead and her son is now allowed to be with her in Naples. Though her heart might ache from being without Cesare, the biggest problem with her new marriage has been settled and things should begin to better now that her new family is complete. However, the issue of who will succeed King Ferdinand has arisen, with Alfonso being behind two men in line for the throne: Prince Raphael and Prince Frederigo. Will either of these men gaining the crown be considered a win for the Borgias, particularly Lucrezia? Or has she rid herself of one problem only to find a bigger one waiting to fill the void?
On the next episode of The Borgias, Lucrezia meets with Prince Raphael, who tells her that should he be named King of Naples, he'll be uphold the traditional viewpoints of Ferdinand. Namely, he'll extradite Giovanni back to Rome – or have him work in a stable. If Raphael were to be named king, Lucrezia wouldn't have gained anything by Ferdinand's death; she would still have a person in power who refuses to recognize her son and will do anything to keep the two separated. Raphael might be a less intimidating foe than the former king, a man Alfonso couldn't go up against, but unless she does something to make sure that Frederigo gets the title, she'll have to fight the same battles all over again.
Elsewhere on The Borgias, Cesare burns down Costanzo's palace to contain the plague, while Alexander must learn to rely on his son when it comes to the situation with Ludovico Sforza and a replacement for King Ferdinand is named.
The Borgias airs Sundays at 10:00 on Showtime.
How will Lucrezia strike back against Raphael and ensure that he doesn't become king? Will Alexander ever learn to trust his son in all things battle-related? Is Cesare too late in burning the palace?