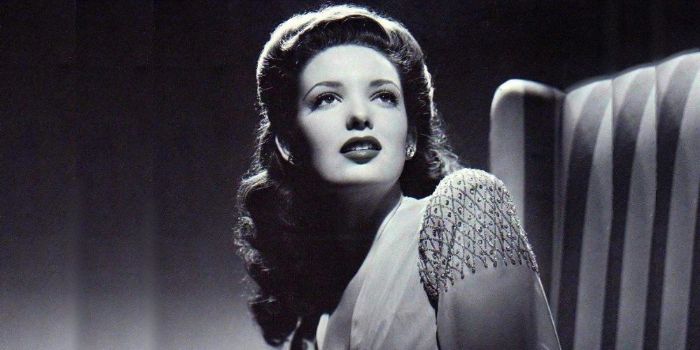 Born Monetta Eloyse Darnell, Linda Darnell might never have made her way into the spotlight if not for the plans of her mother, Pearl. As disturbing as it might seem Pearl tended to disregard her other three children and put much of her energy into Linda in an attempt to cultivate what she thought was the only bit of talent in her family. When asked her siblings stated that Linda loved the limelight quite a bit and shared their mother's dream for her. It's amusing to think however that she had no real talent to speak of starting out and the only reason she ever got noticed was that her mother continually pushed her. The biggest attributes that Linda had to fall back on for a while was the fact that she was both sweet and considerate, but in show business it would seem that such innocents would get eaten up and forgotten about before the next day. In many ways it seemed as though her mother was attempting to live vicariously through her since she'd wanted to be a star in her youth but had never attained such a thing. It could just as easily be said however that her mother, despite the flaw of neglecting her other kids, wanted the best for Linda and was highly protective of her chances.
Linda became a model by the time she was 11 years old, and it was only two years after that when she was acting on stage. At one point she left school, as she didn't have a whole lot in common with her peers at that point and spent a great deal of time at home under the guidance of her mother. In 1937 her mother encouraged her to meet with a talent scout, and they even made their way to California for a screen test. The downside however is that she was told that she was too young by several film studios. It wouldn't be too long though until she was picked up by RKO Pictures and signed to a contract. Shortly after that however she was signed to a contract at 20th Century Fox and had moved to a small apartment in Hollywood by herself.
The role in Hotel for Women came to her when star Loretta Young demanded too much for the part and it was thought that the movie would advertise her beauty and even give her a Latin quality that would match the coloring of her skin. She was only 15 at that time but she was posing as a 17-year old, and being listed as 19. She was lauded as young, immature, and quite naive in her ideas, but she was also seen to be quite loyal to her boss at the time, Darryl F. Zanuck. Her real age didn't come out until 1939 and by then she was already being shown as a leading lady. At one point she had to admit that making movies was not what she'd expected, as she hadn't realized the amount of work that went into it.
Unfortunately, as seems to happen to many actors that strike it big when they first come on the scene, her career began to suffer setbacks as the 30s ended and the 40s began. She was cast in several films that didn't do very well and was passed over for roles that she could have accomplished quite easily. At this time she started looking around for other options with her career and for those studios that would not treat her like a child or like some starry-eyed little girl. In 1943 she was suspended from making films and had even eloped, which vexed her once-favored employer all the more. Eventually her looks became the only reason she was really getting any attention and after figuring this out she began to grow slightly disenchanted with the business.
However, the more that she was being lauded for her looks, the more opportunities seemed to come her way. After being given the image of a pin-up girl she began to experience an upswing in her career that she rode out quite well as she went on to play in the film Hangover Square. The film was such a success that it brought Darnell back to prominence in a way that made it obvious that not even lower-grade film roles could possibly slow her down. There were still a few bumps here and there throughout this part of her career, but Linda managed to withstand them and continued to rise.
Linda Darnell was without a doubt one of the most influential and at times controversial individuals in Hollywood and yet for all that her career was something that people can't help but look at and admire to this day. She didn't last nearly as long as some within the spotlight but she did make a rather big impact, and the Hollywood star that she earned is proof of that.