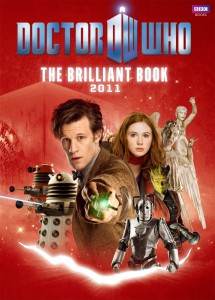 For those of you who can't get enough of Doctor Who, BBC is pushing out books left and right for the series. DK is releasing a "Visual Dictionary" for the series (stay tuned to TVOvermind for more details on that very soon), and BBC books is now releasing The Brilliant Book of Doctor Who 2011.
Though the title says 2011, the book is actually focusing on the 2010 series, making it a sort of guide to Matt Smith's first year in the TARDIS. The book, with its striking-red monster-filled cover, will hit UK shelves on September 30 and US shelves on October 19.
The book looks to be full of a lot of interesting information that works more as a real-world companion to the series, as opposed to the more in-universe perspectives of other such volumes. I can't wait to see the behind-the-scenes stuff presented in this book. It looks simply amazing.
US readers who want to pre-order the book can do so by clicking on this link.
Celebrate the rebirth of the UK's number one family drama series with this lavish hardback, containing everything you need to know about the Eleventh Doctor's first year.

Explore Amy Pond's home village, Leadworth, read a lost section from Churchill's memoirs that covers his adventures with the Doctor, and learn all about the legend of the Weeping Angels. See how the Doctor's costume evolved, how the monsters are made and discover the trade secrets of writing a thrilling Doctor Who script. Plus exclusive interviews with all of the key players and a few secret celebrity guests, and new fiction by Brian Aldiss…

Including contributions from executive producer Steven Moffat, stars Matt Smith and Karen Gillan, and scriptwriters Mark Gatiss and Gareth Roberts, among others, and packed with beautiful original illustrations and never-before-seen pictures, The Brilliant Book of Doctor Who is the ultimate companion to the world's most successful science fiction series.