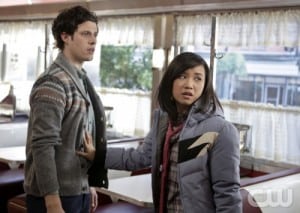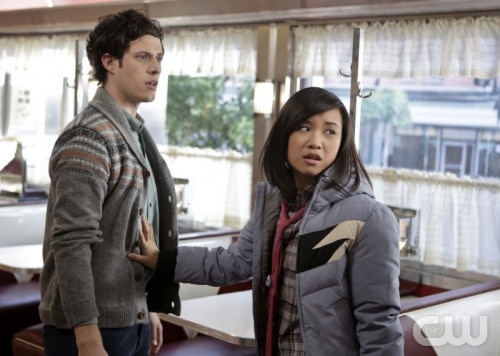 Mouse got back with her college boyfriend recently The Carrie Diaries, the two bonding over their distaste for the Manhattan performance art club Larissa took them to. While she was still nervous about keeping his attention, Mouse seemed to calm down about their status once Seth came to comfort her and took her out for ice cream on their first date since getting back together. However, a nice gesture and a little hand holding haven't stopped her from turning her worry to another aspect of their relationship: their sex life. Is Mouse fretting over nothing?
On the next episode of The Carrie Diaries, Mouse isn't sure if she's going about this whole sex thing in the right way. She turns to Walt for advice in the matter, after hearing from Maggie how good he was in bed; granted, he and Maggie have only just begun to have sex after a 2 year wait, but Walt tells her that it kind of doesn't matter what she does as long as she's doing it, so to speak. In addition, he gives her the idea to handle it (ahem) like the clubs she uses while playing golf on the golf team: loosely but with control. Will the talk with her friend help Mouse shake off the performance anxiety that comes from being intimate with her boyfriend?
Elsewhere on The Carrie Diaries, Carrie gets invited to dinner in Manhattan by an old friend, Maggie takes on Donna and the Jens for a spot in the diner, and Tom loses his wedding ring, making him reconsider his thoughts on dating again.
The Carrie Diaries airs Mondays at 8:00 on The CW. You can check out a recap of the most recent episode here, as well as spoilers for the next two episodes here.
Will Mouse grow more comfortable with being intimate with Seth? How will Carrie's night in Manhattan go? Should Tom date again a few months after losing his wife?
http://www.youtube.com/watch?v=VfIiSOOy8xM
http://www.youtube.com/watch?v=ZU0qfwl4rTY
http://www.youtube.com/watch?v=UAxLoPOESDo