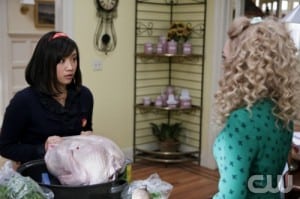 Carrie Bradshaw learned at an early age that she liked the bad boys, the guys who might not necessarily be good for her but who made her feel good. That trend followed her well into adulthood and defined the choices that she made in her love life, leading her into a marriage with the one who nobody thought she could wrangle, but coming up on The Carrie Diaries, we'll get to see her first real heartache from attempting to love someone who might not be ready for that type of commitment.
Listed below are the dates, titles, and full descriptions for two upcoming episodes of The Carrie Diaries.
Monday, February 11th – "Dangerous Territory"
Carrie (AnnaSophia Robb) runs into an old friend at her internship and gets invited to his mother's dinner soiree in Manhattan, but her feelings for Sebastian (Austin Butler) get in her way, until she see him with another girl. Mouse (Ellen Wong) is excited about getting back together with Seth (guest star Kyle Harris), but her worries about being bad at sex drive her to ask Walt (Brendan Dooling) for help. In order to hang on to a favorite spot at the diner, Maggie (Katie Findlay) takes on Donna LaDonna (Chloe Bridges) and her friends. Meanwhile, Tom (Matt Letscher) loses his wedding ring, which makes him realize that Harlan (guest star Scott Cohen) might be right about starting to date again.
Monday, February 18th – "Endgame"
Carrie gets in way over her head when she tries to cook the perfect Thanksgiving dinner for her family, her new boyfriend George (guest star Richard Kohnke), and his father Harlan, so she enlists Mouse's help. Tom is oblivious to the chaos going on in the kitchen, while Dorrit finds a new way to torture Carrie. Maggie is excited to have Thanksgiving with Walt's family, but when the topic of college comes up she realizes she hasn't put much thought into her future. Elsewhere, Sebastian learns that his mother decided to fly out of town with her boyfriend, leaving him to fend for himself on Thanksgiving.
The Carrie Diaries airs Mondays at 8:00 on The CW. You can check out a recap of the most recent episode here.
Will Carrie be able to pull of a dinner to impress her family, George, and most importantly, herself? How likely is it that the girl she'll see Sebastian with will be Donna LaDonna? Where should Maggie be looking for future inspiration?