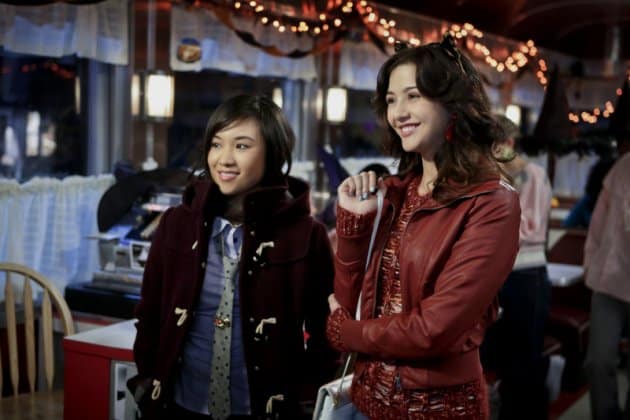 For the most part, Carrie's been deliberate in keeping her two worlds separate. It makes sense for her to do that, as being completely transparent would scare away Larissa, alienate her friends, and completely dash the dream life she's built for herself. Following the death of her mother, Carrie finally has things to look forward to and she wants to protect that chance of something good developing in her future with everything she's got. But what happens when Carrie's two lives, the glamorous night life filled with connections and the humdrum suburban existence, find themselves intertwining on The Carrie Diaries?
On the February 4th episode of The Carrie Diaries, it's time for Halloween and, more importantly, Halloween parties. Carrie brings Walt into the city and the two hit up a party with Larissa, though the night turns out to be a bust when Carrie's stuck taking care of her mentor and Walt has an uncomfortable experience with another party-goer. While Carrie's away, Maggie and Mouse team up to keep tabs on Sebastian at his Halloween party; he may have rejected Donna at the country club, but there's always a chance that she could weasel her way into his heart (and his pants) with Carrie not around. However, is it worth it for Carrie to try and be in a relationship with him if she has to worry this much when they're not in the same room?
Elsewhere on The Carrie Diaries, Dorrit continues rebelling against her father and gets caught trying to sneak out of the house. As punishment, she has to spend the evening with her dad, which turns out to be surprisingly fun.
The Carrie Diaries airs Mondays at 8:00 on The CW.
With Carrie in the city, will Sebastian behave? How will Walt react to being in a more open environment? How long will Dorrit's rebellious phase last?