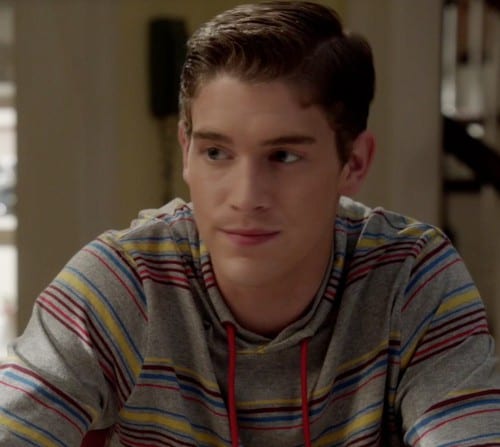 Thus far on The Carrie Diaries, each character has been struggling with issues of identity. While Tom's sense of self was tied so directly to his marriage that losing his wife proved to be a tough blow, Mouse is learning to live for herself rather than her parents, Maggie's faced an uncertain future due to little ambition, and Sebastian has struggled to separate himself and his self-worth from his complicated family life. But Walt has been going through arguably the toughest road to self-actualization as he figures out who he is and who he wants to be. Is he finally ready to admit it to other people, as well as himself?
On tonight's episode of The Carrie Diaries, Walt and Carrie are alone at Interview and he all but comes out to her, confirming the possibility of a crush on Bennett. Indirectly, the newfound sense of confidence and need to be honest was Carrie's fault, as the party last week showed Walt that owning who you are doesn't have to be a scary thing, especially if you have someone there to help you learn to embrace yourself. Nonetheless, it's a huge step for Walt to finally admit his inner turmoil out loud, let alone a relief from the pressure he's been putting himself under. Carrie is, of course, supportive of her friend, but is Walt ready to admit his feelings to the other people in his life?
Elsewhere on The Carrie Diaries, Carrie gets to assume Larissa's identity – and all the baggage that comes along with it, while Sebastian and Maggie agree to keep a secret from Carrie, Mouse takes a page from Donna's playbook, and Tom has a run-in at meditation class.
The Carrie Diaries airs tonight at 8:00 on The CW. You can check out an additional sneak peek here, as well as spoilers for the final two episodes of the season here and here.
Will Walt officially come out by the end of the season? Do you think he and Bennett make a cute couple? How would Maggie and Mouse react to the news?
http://www.youtube.com/watch?v=dNR_TLM01bo
http://www.youtube.com/watch?v=ZqHcbkj1ZD4