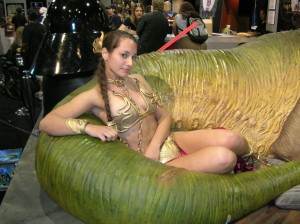 I'm missing Comic Con this year. I'm slowly coming to grips with that very sad fact – partially because our own Jo will be bringing us constant updates from the convention – but word of a "Princess Leia Metal Bikini Group Shot" makes it all that much harder to move on.
Why? Why do I have to miss oodles of gorgeous geek girls dressed up the geek equivelant of that Farrah Fawcett [rip] pinup gear? The gurus of comic con have even very wisely barred men from participating, virtually guarantee a minimal ick factor. Oh well, at least Jo will be there with camera in hand to capture the copper and flesh cornicopia for us.
For those attending, the Princess Leia Metal Bikini group shoot will be at 12pm noon on Friday at the gentle giant booth in Dealer's hall.
Thank the maker for Jamin's site www.leiasmetalbikini.com, which has multiple group shots, model galleries, and even instructions for making your own Leia-kini. Here is a little bit of what they have to offer:
[imagebrowser id=32 template=flipped]