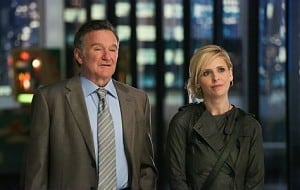 In The Crazy Ones, Robin Williams is returning to television and Sarah Michelle Gellar is turning away from drama to focus on comedy.
Williams plays Simon Roberts, the head of a powerful advertising agency. Gellar plays his daughter and work partner Sydney. "As his partner, Sydney is Simon's exact opposite — focused, organized and eager to make a name for herself, but also too busy parenting her father, which she'd resent if he wasn't so brilliant at what he does. Â Joining them in the firm are the dashing and talented Zach (James Wolk); art director Andrew (Hamish Linklater), who's as hard-working as he is neurotic; and the beautiful and deceptively smart assistant Lauren (Amanda Setton). Â With his team and his daughter behind him, Simon continues to set the advertising world on fire, and it looks like they are definitely buying what these crazy ones are selling."
Emmy and Golden Globe Award winner David E. Kelley ("Ally McBeal" and "The Practice"), Bill D'Elia, Emmy Award winner Jason Winer ("Modern Family"), Dean Lorey, John Montgomery and Mark Teitelbaum are executive producers for Twentieth Century Fox Television. Jason Winer directed the pilot.
The Crazy Ones will air on Thursdays at 9:00 p.m. ET/PT. You can check out CBS's 2013-2014 schedule here.
[youtube=http://youtu.be/pWEL-FqBW0o&w=540&h=385]