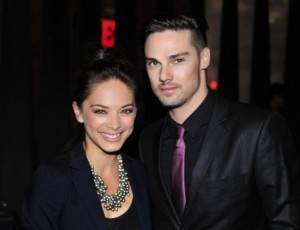 The remake of Beauty and the Beast, to premiere this fall on The CW, is getting the plum spot on the primetime schedule: Thursday nights after The Vampire Diaries, the network's most popular show. CBS Studios, which produces the show, has announced that the series will be introduced to fans via a screening and panel at San Diego Comic-Con. Here are the details:
The screening and panel will take on Thursday, July 12 at 3:30-4:35 PM in Ballroom 20.
Kristin Kreuk ("Smallville") and Jay Ryan ("Terra Nova") along with Executive Producers Jennifer Levin ("Without a Trace"), Sherri Cooper ("Brothers & Sisters"), Brian Peterson ("Smallville") and Kelly Souders ("Smallville") discuss the new CW fall series, a modern adaptation of a beloved fairy tale. Centering on Catherine Chandler (Kreuk), a tough-minded NYPD homicide detective who is haunted by witnessing her mother's murder nine years ago – as well as the murderer's quick demise at what she perceived to be the hands of a beast. After years of searching, Catherine finally discovers the beast is Vincent Keller (Ryan), a survivor of a military experiment that went disastrously wrong and left him to lead a secret life in hiding. Join the cast and producers for an exclusive viewing of the first episode, followed by a panel discussion moderated by Dalton Ross (Assistant Managing Editor, Entertainment Weekly).
Kreuk, Ryan and the show executive producers will participate in an exclusive autograph signing following the panel at the CW/CBS Booth at 5:00-6:15 PM on the convention floor.
Want to get acquainted with Beauty and the Beast before Comic-Con? Watch an extended preview for the new series here.