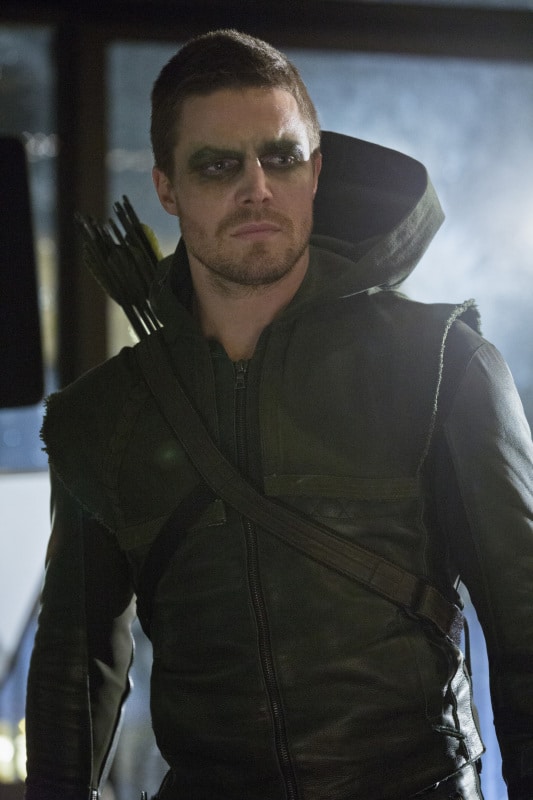 There were quite a few "oh my God!" moments in this week's Arrow as we head into a short hiatus.  First, Moira's plan to kill Malcolm went ahead full steam, with China Write bringing Deadshot back into the assassin's game in an attempt to kill the elder Merlyn.  Unfortunately, the murder was supposed to take place at an awards ceremony…one that Tommy was also attending to support his father.
When Oliver learned that Malcolm was the target and Tommy was with his father, he rushed to his friend's aid.  After Malcolm was poisoned, Oliver was forced to reveal that he is the Arrow when Tommy refused to accept help from the masked vigilante.  Now Tommy is the fourth member of the Scooby gang who knows about Oliver's alter ego and Malcolm has tasked Moira with discovering who tried to kill him, which puts her in quite a difficult situation since he has vowed revenge.
Meanwhile, Laurel ignored a phone call from her long gone mother earlier in the episode, but Dinah Lance showed up on her daughter's doorstep to deliver some shocking news: she believes that Sarah may still be alive.
Arrow is on a short hiatus until mid-March, but The Huntress returns to Starling City when the show comes back.  Here is what you can expect: "With his nightclub set to open and a new romance brewing with McKenna (guest star Janina Gavankar), Oliver (Stephen Amell) is as happy as he's been since returning to Starling City. But when Oliver's ex, The Huntress (guest star Jessica De Gouw), suddenly returns to town, she threatens to destroy everything and everyone he cares about. Meanwhile, Laurel (Katie Cassidy) and her father (Paul Blackthorne) struggle with the return of Dinah Lance (guest star Alex Kingston) who claims she has proof Sara is still alive. Thea (Willa Holland) gets Roy Harper (guest star Colton Haynes) a job at Oliver's club, but he's not too inclined to stop his life of crime. Oliver and Tommy (Colin Donnell) are thrilled they were able to get Steve Aoki to play at the opening of their new nightclub, Verdant."
Watch a preview below for Arrow's return on March 20 on The CW.
http://youtu.be/AFtgR3e1iAc