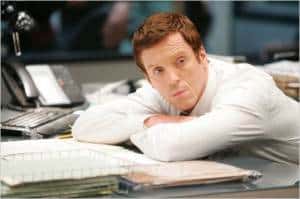 For two seasons, Life aired on NBC. The always fantastic Damian Lewis starred as Charlie Crews; a man wrongly tried and convicted of a crime he did not commit, served twelve years in prison, was eventually exonerated, and returned to the LAPD as the detective he once was before his time in prison. Oh, yeah, and he became a multi-millionaire after successfully suing for wrongful incarceration. Crews was partnered with Detective Dani Reese after his release from prison, played by the wonderful Sarah Shahi.
This series was able to make it to a second season, but has failed to make it to a third, as NBC announced yesterday that Life would not be renewed. Life was canceled due mostly to low ratings, but the competition at NBC from other bubble shows such as Chuck, Law & Order, and Medium did it no favors, nor did the fact that NBC did nothing to advertise or otherwise support this little gem of a show.
Ben Silverman, co-chairman of NBC, along with the LA Times, and various other sources reported the cancellation of Life, announced at the NBC upfronts presentation on Monday.
The ratings in the second season only averaged 6.2 million viewers. However, the series was considered a critical success, and it captivated loyal fans every week.
In recent weeks, increasing attention has been placed on Chuck, Law & Order, and Medium. NBC is currently working on assembling a new lineup for next season, which will exclude dramas in the 10pm (EST) time slot, due to the new Jay Leno comedy show, which will run in this all-important timeslot five nights a week. This has caused a great deal of competition between shows that would normally have been renewed. It isn't clear if this is the reason for the cancellation of Life, but it certainly didn't help matters. Of the other three other shows mentioned, only Medium's fate has been has been decided, as NBC announced yesterday that it would be back next season. The future of Chuck and Law & Order is still up in the air, and NBC has announced that a decision will be made by May 19.
Source: Zap2it