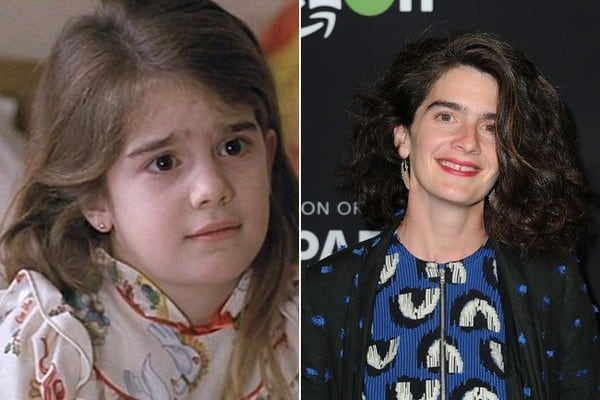 The evolution of Gaby Hoffman didn't start with Uncle Buck as a lot of people might think. She started her acting career at the age of four to help pay the family bills by acting in commercials. This is kind of strange since her mother and father were both actors and she spent a good chunk of her life living in the Chelsea Hotel in Manhattan. Regardless, her mother and father were estranged not long after she was born and Gaby was raised by her mother primarily. Her time spent in the hotel however introduced her to a lifestyle that many people would likely find kind of odd, but was normal for her. When she and her mother were evicted however they made their way out to California where they settled for a while.
Childhood Years
Gaby's first standout film performance was in Field of Dreams alongside Kevin Costner in 1989. That same year she would star with John Candy and Macaulay Culkin in Uncle Buck. Apparently she couldn't stand Culkin, though upon hearing that he was making a lot of money in feature films she decided to go back after a temporary retirement. Don't laugh now, kids can get tired of the rigors of performing as well, and Gaby had had just about enough of it after Uncle Buck. As she has stated her competitive nature got the best of her and she went back into movies to prove that she could do just as well. She starred in the film This Is My Life, then went on to Sleepless in Seattle with Tom Hanks, and then onto The Man Without a Face alongside Mel Gibson. The praise that she received from This Is My Life was what kept her going however and encouraged her to pursue acting as a full-time career. After this she had no trouble going after major roles.  In fact in 1994 Hoffman was granted the starring role in a sitcom titled Someone Like Me on NBC. The story was about a young girl and her dysfunctional family, and though it was well-received it only lasted six episodes.
After Someone Like Me she sent on to star opposite Shelley Long in the TV movie Freaky Friday, which aired in 1995. This was a remake of a 1976 film of the same name that had starred Jodie Foster and Barbara Harris. She also starred in Now and Then as the childhood counterpart to Demi Moore's character in the same year.  She then went on to play the part of Andrea Eagerton in the CBS film Whose Daughter Is She?
Teen/College Years
Sometime between 1996 and 2001 Gaby managed to land roles in films like Everyone Says I Love You, Volcano, Snapped, The Hairy Bird, 200 Cigarettes, Coming Soon, and several others. She wasn't idle during this time obviously but her status as a movie star was far more rooted in films that had a much more dramatic lean. She also seemed to stay away from the mainstream for the most part since a lot of these films seem to swing wide of what people consider to be blockbusters. Whether that was by personal choice or not is hard to say but at this point her career was solid but not settled in the most popular facets of film culture.
Theater Work
Her time on stage lasted from 2003 to 2007 and she concentrated on it heavily as she made her way back to New York. To her credit she took on many roles within several plays that had her working with many talented people. She even got to work with her rival Macaulay Culkin's brother, Kieran Culkin, in a Broadway version of Suburbia. At one point she even got to share the stage with Jennifer Aniston for a short time.
Return to Film
Starting in 2007 Hoffman began to make her way back to film acting. She started out making documentaries, one in which she returned to the Chelsea Hotel where she grew up. In this documentary the hotel was lauded for the many different personalities and artistic voices that emerged from the place over the years. She's managed to work with a few big name stars since her return such as Mickey Rourke, Micheal Cera, and the cast of Girls. She's also been seen on a Web series titled Lyle that was shot in New York. Since coming back to film she's been a very highly opinionated personality and has shown her desire to effect change in the filming industry when it comes to how people are presented and what is considered to be acceptable in terms of what society accepts versus what it thinks is unacceptable. Hoffman has been very adamant following her own nude scene on what people want and what should be accepted in terms of body image. Her words haven't fallen on deaf ears, but one thing that anyone needs to recognize is that the voice they project is just one among many, and everyone has the right to their opinion.
So to put it quite simply, she's come a long way since the Chelsea Hotel.