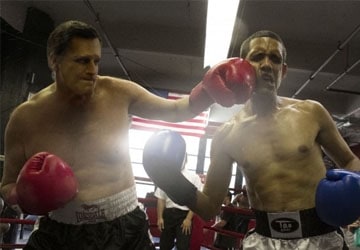 Want to get drunk tonight?  Might as well since the only thing on television after 9PM is the final Presidential Debate between challenger Mitt Romney and President Barack Obama. In case you don't know how these things work, you watch the debate and when one of the following things happen you take a drink of your favorite alcoholic beverage.  If you're not a drinker you can substitute your favorite guilty pleasure snack.  Full disclosure:  these rules are designed to get you totally smashed, and therefore by the end of the show you'll feel like you've had an enjoyable night of television;  your alternative is Gossip Girl, or a book.  You decide.
Rule One:  Obama Says "Look" – Once upon a time prefacing a sentence with "Look" caused a little spike of anticipation about what was coming next.  Now it just means "I need a few more microseconds to think, while I do that enjoy this dramatic pause." Take one normal sip for every "Look"
Rule Two:  Romney says "9/11" but isn't referring to 2001 – Apparently the Republicans have some experts in Neuro Linguistic Processing working for them because they've been working double-time to spread the term "9/11" to symbolize the Benghazi attacks.  It's like a psychic dog whistle.  Everytime Romney tries to brainwash you, take a a normal sip.
Rule Three:  Obama Says "Bin Laden" – Yes, yes, Barack.  We know.  You killed Bin Laden and dumped him at the bottom of the sea.  The Walking Dead fans are still disappointed that you didn't release photographic evidence though.  When Obama says "Bin Laden", take a big chug.
Rule Four: Romney mentions the Olympics – Romney's administration of the Salt Lake Olympics could have, and still may, be an endearing foreign policy feather for Romney.  Except for the fact that when he went abroad he insulted England for their administration of the Olympics.  So when Romney mentions his experience running the Olympics, take two sips.  When Obama mentions the England Olympics, also take two sips.
Bonus:  Zingers!
Obama mentions the Cayman Islands as part of Romney's Foreign Policy Experience:  Chug!
Romney mentions Obama's foreign roots in any way: Chug!
Obama mentions Romney's family history of running to Mexico to avoid United States law:  Chug!
Romney uses the word 'European' to describe any of Obama's policies:  Chug!
Obama claims Romney is hiding his real foreign policy plans from voters:  Chug!
Romney says Obama is hiding his real foreign policy plans from voters:  Chug!