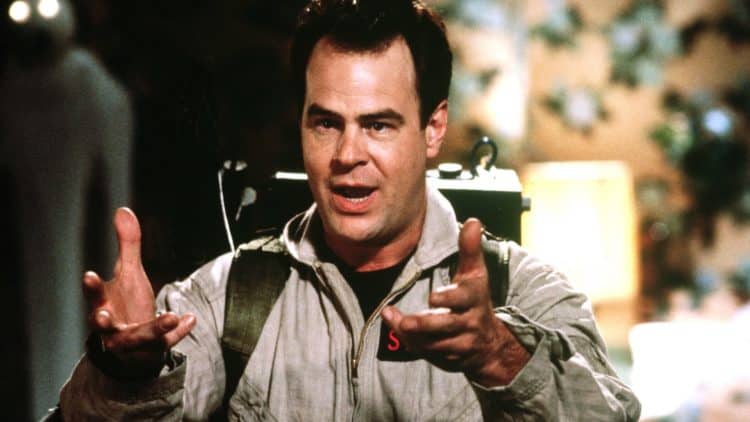 With some actors it's really hard to pick just a few movies out of their long and storied career to really celebrate, and with someone like Dan Aykroyd, who's done so much in his life to this point both on and off the set it's even harder. This guy has been entertaining for decades and is revered and remembered by many that have grown up watching him and can remember some of his earliest stuff. There have been a few flops here and there to be certain and there are always issues along the way when it comes to anyone being famous, but one thing that you can say about Dan, among the many things, is that he's always been pretty true to the comedy and has used his acting ability to the greatest extent. There have been rumors that he's not always the nicest guy on the block but then again there are rumors that abound concerning a lot of celebrities. Whether or not you like the guy isn't really important since his career speaks for itself and says volumes about what he's done.
Here are just a few of his best movies, it's a long list to pick from.
5. Tommy Boy
Yes, this was Chris Farley and David Spade's movie since they were the 'it' couple as far as comedy duos went at this time. There was no taking away that honor from the guys, but when Dan Aykroyd is in your movie people tend to stand up and pay attention since he's just that great. Plus, he didn't really play an overbearing character that eclipsed either man, playing along with the duo in a way that made it pleasant but firm and straight to the point. Zalinski wasn't the nicest guy, but you could easily say that he was fair when it came to business, no matter how ruthless he was in the pursuit of the almighty dollar. Plus, the respect he showed Tommy was actually kind of nice, if rare in business.
4. The Great Outdoors
Roman is that relative that you can't stand but put up with for the sake of your significant other and family since they seem to think he's so great. Chet however was absolutely miserable with Roman around and there was a good reason; Roman was a loudmouth braggart that had to impose his will on everyone. This was perfect though since it made the duo of Aykroyd and Candy work in a way that showed the simple, down home individual trying his best to just get along with the wannabe alpha male. Roman was a lot of fun to be honest, but he did portray the character of someone that a lot of people would love to see take a serious fall. Of course when he revealed that his family was broke it was hard to take the high road and not feel a little better for Chet.
3. Ghostbusters
You might wonder why this movie is a little further down the list than it should be. That's simply because as great as Ray is he's the kind of guy that's got a big heart but also a very analytic mind that uses that big heart like a pillow to cushion him at times. He gets in there and does what he needs to do right alongside his friends, but he's still the softest member of the Ghostbusters when it comes to describing them in terms of toughness. One thing you can say though is that he is the heart of the group, he's the guy that knows what he's talking about and can back it up with solid facts and action when needed. But he's not particularly strong-willed, as the second film goes on to show.
2. Trading Places
You can just imagine the field day that social justice warriors would have if this film was remade in this same manner today, right? The act of wearing blackface has become something akin to walking up to a black person and calling them the most foul, racial name you can think of. But back in the time when this was being made it might have still raised a few eyebrows, but the reason for it being done at all was understood by a lot of people. This scene alone proved to be one of the funniest in the entire movie, and what's even funnier is that people who used to laugh at this are now claiming to be 'woke' and condemning it for being anything but comedic. Oh what a world.
1. The Blues Brothers
Elwood…oh what can I say about Elwood? He's kind of a simple guy but he's also rather cool considering that he gets along without much going on in his life. He lives in a slum, in a closet-sized room big enough to hold a bed and a small kitchenette, he has no friends other than his brother and perhaps the old man that asks "Did you bring my Cheez Whiz boy?", and quite honestly he doesn't do much more than listen to music and try to stay out of trouble, occasionally. Ah the simple life.
Dan Aykroyd is still awesome, no matter how you look at it.