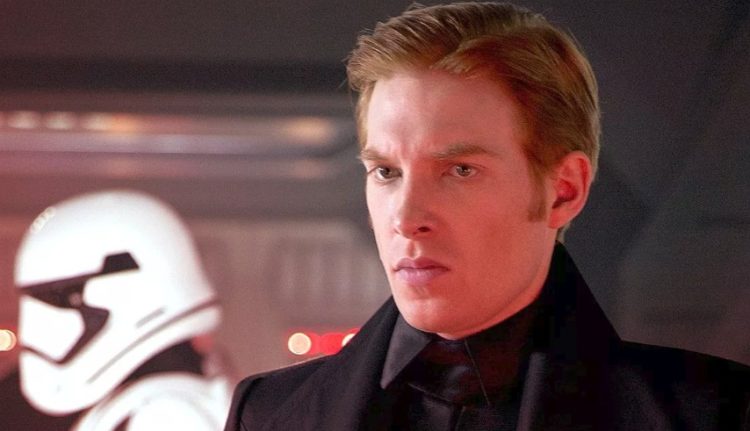 It's amazing how different a kid can be from their parents but when you look at Domnhall Gleeson and his father Brendan you get the feeling that Domnhall didn't really inherit his father's great size. Perhaps it's a matter of age or maybe it's just a common genetic difference but he doesn't really look that much like his dad either. That being said though he's shaping up to be just as good of an actor as his famous father since most people know that Brendan has been in countless movies and TV shows and is still going strong. Domnhall has been in show business for a while now and even if he's not quite as well known yet he's still building his own legacy in a manner that should be quite telling in the years to come. After all he's been attached to one franchise that his father was part of, and he's branched out to become attached to another one that his father never had the pleasure of being associated with. So in all honesty while they're both great, they're both going their own way.
Here are some of his best movies to date.
5. The Revenant
A lot of times when you see a movie that's based on a real story you can assume that only parts of it are going to be real since real life tends to take a lot longer to draw itself out, meaning that a movie will have to mash certain moments together or perhaps even make something up in an effort to keep the audience entertained. That's the way it happened with this movie, as a lot of the history that was put into the film was factual, but the events and the time line were messed with in order to make it easier to take in the allotted time. But quite honestly those that have seen it probably remember the bear attack the most, because thinking that anyone could possibly live through something like that is just hard to fathom. Believe it or not though the man did live.
4. Harry Potter and the Deathly Hallows: Part 2
You don't really get to see Bill Weasley in the Harry Potter movies all that much, but if you've read the books then you know his name comes up more than a few times. By the time he's finally introduced in the story however things have gotten well out of hand and Lord Voldemort's forces are making their presence known in a big way. Bill is barely a secondary character but he's all Weasley as you can see with the red hair and the ungainly features. In the books he carries a lot more importance, but as with all books there's only so much that can be stuffed into the movie without making it last for hours on end. In truth if the Harry Potter movies were to adequately reflect the books it would have been a long-running series it seems like.
3. Star Wars: The Force Awakens
Let's just be up front and honest, General Hux is the guy you want to backhand repeatedly until that smug look leaves his face for good. He knows he's in a position of power and he uses it as much as he possibly can to lord over others. When he manages to get one up on Kylo Ren, another drama queen but much more powerful, you can see the satisfaction on his face as he smirks behind the dark lord's back. Perhaps the only reason I didn't put in The Last Jedi instead of this movie is the fact that The Force Awakens had that cushion that allowed it to be more well-received and less hated. But the moment that Kylo Force-pushes Hux into a bulkhead in TLJ is a very memorable moment.
2. Ex Machina
When you win a trip to meet with the CEO of your company and you find out that it's a place that's isolated in the middle of nowhere with no one else there but the CEO and his AI constructs it might be that you just won the booby prize. Let's add to this the fact that the CEO is a little out there and not entirely trustworthy, and that the androids, AI, whatever you want to call them, are thinking machines that are capable of learning and playing upon a person's emotions, and this could be an absolute nightmare that most people would steer clear of. If there's any more questions regarding why AI is an increasingly dangerous tool in the hands of humans this is just one more movie that proves that such a thing is not entirely trustworthy.
1. About Time
So what would you do if you could travel through time? You couldn't go into the future since it's unwritten, but being able to go into your past and change certain things that you felt you could have done better or stopped from happening is a tempting thought for many people. The only problem with that is wondering just what you're going to change and how far you'll have to go in order to make things right but not cause a calamity that might very well ruin the lives of those around you.
Domnhall is on the path to greatness, there's no doubt.