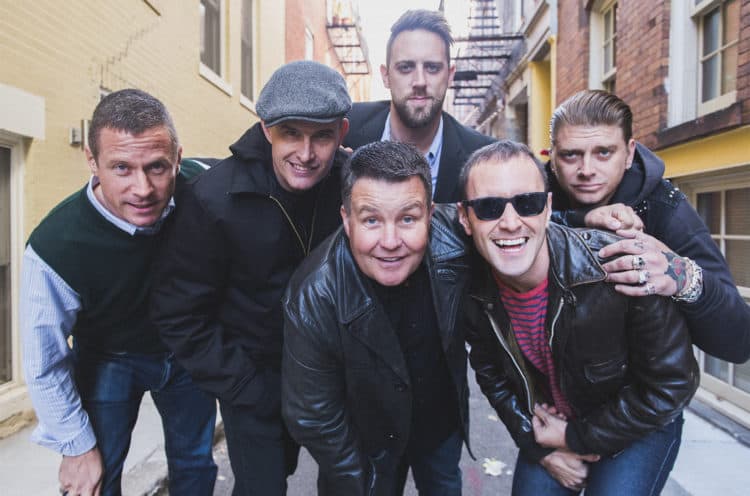 The original Dropkick Murphy's were formed in the 60s and were amusingly enough named after a detox center. Since then the band has undergone a lot of changes to their personnel and yet has kept largely the same punk sound that made them famous when they reconvened in the late 90s as an opening act for The Mighty Mighty Bosstones. Since then they've been heard here and there and been the kind of band that's a nice surprise to hear from now and again since they do have an addictive sound that's fun to listen to and easy to jam with. On a broader scale it would seem that they're still kind on the low end as far as being a group that would be known worldwide by mass amounts of people. But turning a person on to the band would be kind of easy since a lot of people love that hard style and the punk rock they've been known for.
Here are some of their best songs.
5. The Boys Are Back
That quick, fun style that they have is something that attracts a lot of listeners since it delivers you right into the song and doesn't really waste time. There's only a slight buildup and even then it doesn't take so long that people are rolling their eyes waiting for something to happen. Once the song punches into high gear you don't want it stop since it's bound to be something that alights upon your nerves and simply demands excitement and a sense of acceptance that you can't help but desire to give. This is a band that can keep coming back again and again simply because their sound is that great and can inspire a lot of people.
4. Tessie
Another great part of this band is the fact that they employ bagpipes. Seriously, how many bands ever really have a bagpipe player on their roster? This instrument is insanely hard for some people to learn since a lot of it is about breath control and learning how to regulate your breathing in accordance with playing the instrument, but the sound is just out of this world. Added to this hard style of play it becomes a very pleasing sound that adds to the entire feel of the song and thereby makes it that much more effective. Obviously it can either be drowned out or do the drowning out, but the manner in which they use it is perfect.
3. The State of Massachusetts
The intro to their songs are just great since the way it makes a person feel is that something's about to pop off in the best way that you want to get up and start bouncing around to the music without a care in the world. Massachusetts is one of those states that seems to spawn a great number of bands that have a lot of state pride and woe to anyone that bothers to say anything about it. This band is one of those that you could easily associate with the state simply because, well, that's where they come from and it's obvious in some of their songs that they take a lot of pride in where they live.
2. Rose Tattoo
Once again the intro is something that seems like a perfect lead-in to the song since the picking that's done is so perfect in its pitch and tone that one can easily expect the lyrics to come busting out as they do. Something about these guys is just so addictive in terms of their music that it sinks easily into the ear canal and sets the mind to racing and wanting to listen over and over simply to get the feeling again and again. This is the kind of music you'd love to hear upon entering a pub, either live or on the jukebox, simply because it would seem to fit no matter where you're at. Some people might cock an eyebrow, but a lot of folks couldn't deny that these songs are just fun.
1. Shipping Up To Boston
This is likely one of their best known songs since it's gained a little more attention thanks to the fact that it was featured in The Departed with Leonardo DiCaprio, Jack Nicholson, and Matt Damon. There's something about the city of Boston that suggests that the people there are more close-knit, tougher, and far more bound to stick together at any given time. That might be a myth that's propagated by the media but it does seem like it might be real in theory. If nothing else it definitely makes the place a lot more interesting when people talk about it and in thinking that it might be like another world unto itself.
Their music is just awesome, it has to be said since it's absolutely true.