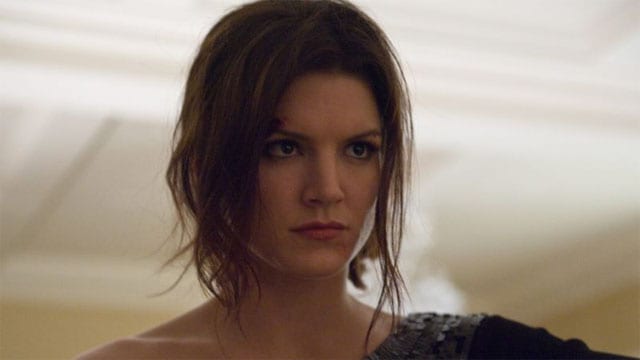 Gina Carano is someone that you can't help but think has earned her way into the acting business and really needs to be given a few more outstanding parts since she's proven that she can act well enough to be in an action movie, but now needs to show that she can develop into a well-rounded individual on screen as well. Thankfully we did get to see some of that in The Mandalorian, and it's a big hope that we'll get to see Cara Dune more later on down the road. But as of now, Gina has become all the rage with the fans and is coming up in a big way since she's one of the hottest stars around. Her MMA background makes it kind of obvious where she's going to be hanging out for a while since she is a very physical individual and does have the kind of moves that makes it worth the while to stick her in an action movie where she can do some good. But yeah, it'd be great to see her become even better.
Here are the five best movies of her career.
5. Daughter of the Wolf
There's a bit of cornball to this movie since the idea of wolves in the wild helping a human in any way seems kind of, well, hokey, but Gina still makes it work since she's just that awesome and the movie is more or less another action flick that is worth the watch. Turn your brain off for this one since the main point of the plot is revenge as Father is trying to get back at Clair for what her father did to him long ago and yada, yada, yada. Watch it for the action and you're golden, watch it for the drama and you might wonder why you bothered to spend the money it takes to put it on. But as far as action goes, oh yes, worth it.
4. Haywire
Ever notice how any movie concerning a government agency usually comes down to a lone agent that's been betrayed or has done the betraying and now something has to be done to shut them up for good? That seems to be a very popular story since it never seems to get old. This movie might have been snubbed largely because it featured a lot of great and well-known actors but cast as its lead someone that at the time wasn't really well known yet. Gina did a great job for her part but at the same time not being known kind of kills a movie since people want to be able to invest in the lead character and knowing that they've seen them somewhere before usually helps just a bit.
3. Blood and Bone
Her part in this movie is kind of there and gone, but it's still amusing as she plays the part of a fighter that is undoubtedly attracted to Bone and would love to get some personal time. The fact that they had her play such a part was pretty cool since it was a return to the ring for her even if it wasn't real. But it does make you wonder just what she was like in the ring when she was fighting. Gina did manage to retire before she took on too much damage, but there's not a lot of doubt that she took her skills from the ring with her at the same time. Now she gets to put them to use in a much more entertaining way.
2. Fast and Furious 6
In real life it does seem as though Gina should be able to take Michelle Rodriguez on since her MMA background is no joke, she did take on Cris Cyborg and despite losing she did hang tough for a while. Given the fact that Michelle doesn't have any formal training as a fighter, at least none that's been reported, Gina should be able to take her out. Even in the movie it was kind of surprising that Letty held her own against a trained government agent that knew how to fight and had seen combat before. C'mon, anyone rolling with Hobbs had to have some training and been able to throw down when the time came.
1. Deadpool
Anyone that can go toe to toe with Colossus and get the upper hand deserves a great amount of respect unless they're the size of the big metal mutant or larger. For instance it would be harder to respect the Juggernaut since he SHOULD be able to take on Colossus. But Angel Dust does more than stand her ground, she actually puts the big Russian on his face a couple of times and nearly chokes him out until Teenage Negasonic Warhead intervenes. Okay, she did get a cheap shot in, but this is when you have to shake your head at how the movies have depicted the comic characters, since in the comics Colossus probably wouldn't stop when he saw his enemy's cleavage bust out.
She's earned her way onto the big screen, no doubts.