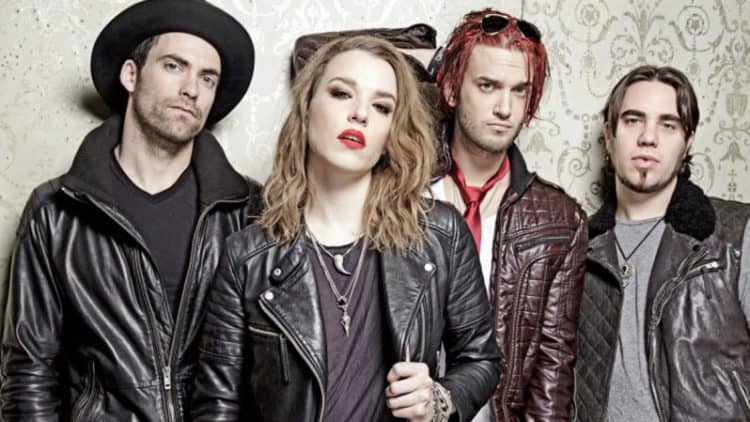 Elizabeth and Arejay Hale have been writing and performing their own songs since the late 90s when they were both still quite young, but they managed to hold onto their dream as the years went by and eventually formed their own band. Halestorm is the kind of hard-hitting group that makes you glad to still be into rock since they bring their lyrics forward with a kick that's sure to smash your teeth in if you're too close and without apologies. Their sound came out around the same time as a lot of different bands that had the same kind of energy and they've toured with a great number of them as well as other groups that compliment them in many ways since their style is kind of harder than a lot of acts that came out around the same time. To hear that they're still in it and still pushing forward is great to be honest.
Here are five of their best songs so far.
5. Here's to Us
It's always nice to know that a band has more range than the direction that made them famous, but with Halestorm you know that it's always about to erupt at one point or another. Their aggressive style is their biggest trademark, but it's also great to know that Lzzy can get on the mic and do more than yell in a pleasing manner. It's fair to say that they've been inspired by a wide selection of artists throughout the years, and it shows in their videos and in their music. But throughout it all they've managed to keep their own style with each and every song. In many ways they're a breath of fresh air that's really needed.
4. Love Bites
There are times when their sound is something of a blend between the music that came a couple decades before and that which you can hear now. But in fusing the two together Halestorm manages to create a sound that pumps a person up even as it pushes them forward and gives them a chance to enjoy something new. Some people might actually see a bit of Joan Jett in the performances since Elizabeth really gets into it and promotes the bad girl image that a lot of people tend to like. While a lot of their songs seem to be about relationships and the difficulties that emerge from them the music is usually hard enough and convincing enough to make people listen.
3. I Miss the Misery
Some of their songs kick a person in the teeth from the get-go and don't slow down all that often as Halestorm is the kind of band that hits the gas and doesn't take their foot off the pedal until the very end when it's time to close the song out. That kind of intensity is impressive since in order to sustain it one has to be in good shape and have the kind of energy that's seemingly boundless and doesn't allow a person to slow down all that much. This band is a serious contender since when they're on the stage they're full go no quit all the time and will gladly provide the audience with a show that is nothing but pure adrenaline.
2. It's Not You
Like I said before, this band hits the gas and just runs over anyone in their way as they talk about relationships and the kind of difficulties that come as a result. They're an unapologetic bunch in their music and that's great since it allows them to just forward full tilt without having any need to really stop or even pause for breath. Their videos are pretty entertaining as well since they offer a very dynamic and engaging set of visuals that make a person wonder what might be going on between the song and the action, even if they don't care since the action is just great to see while the music is playing.
1. I Get Off
This is one of the songs that really helped to catapult them into their current stardom since it was one of the few that really got a lot of air time and was able to turn heads when it came out. The term 'get off' probably elicited a few chuckles and adolescent fantasies but the whole idea of it was a song that turned out to be something great that people would actually sing while at work or just at home while doing the daily chores. That's part of what makes a song endearing to people however is the fact that they'll be singing or humming it under their breath while doing something without even knowing it.
Looking at their tour dates it seems like Halestorm doesn't spend a lot of time in the US. That's too bad, they put on one heck of a good show.