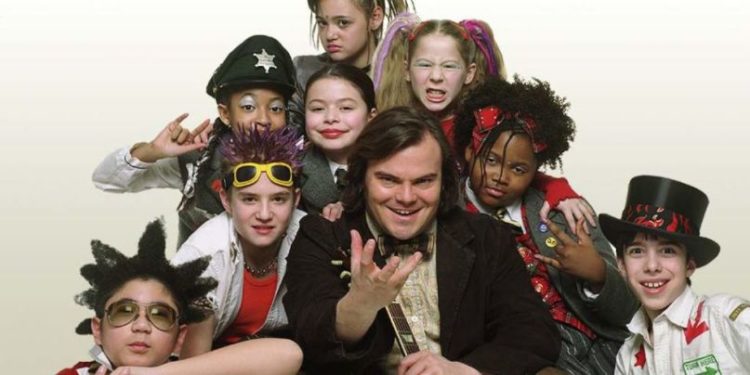 Jack Black seems at his best when he's being funny but he's shown a softer and more gentle side as well as his career has continued to expand and increase in grandeur. But let's face it, his comedy has gotten so much better since he first came on the scene and it shows in just about everything he's done in recent years. When he first got started he was wild, edgy, and out of control a lot of times, but as of now he's still wild and edgy but in a manner that's a little more controlled and far more sophisticated than he used to be. That wild energy is still very much there, but it's been toned down by years of experience and a wisdom that allows him to use it when he needs to and reign it in when he doesn't. It's served him well throughout his movie career and it's been one of the main reasons why he's become so popular.
Here are just a few of his best movies to date.
5. Jumanji: Welcome to the Jungle
Some people might actually think it's creepy that he's playing a part in which he has to act like a young woman trapped inside the body of an older man, but it's decidedly funny since the role reversal doesn't come off as creepy at all. Instead he plays it up in a way that's just flat out hilarious and makes a person laugh or roll their eyes throughout the entire movie. A lot of people were up in arms when it was announced that Jumanji was going to get a remake, but overall the movie wasn't really that bad and it even gave a shout out to the original by showing where Alan Parrish, played by the late Robin Williams, once shacked up.
4. Tenacious D in the Pick of Destiny
Tenacious D has to be one of the most annoying acts to ever come on stage but people still loved them for a while and proclaimed them as one of the greatest bands ever until their time was finally up. The movie however was crazy, out of control, and even kind of gross on some levels, but it managed to capture the attention of a lot of fans and even get them on board. It was kind of hilarious in many ways and there were scenes that are still watched on YouTube over and over again simply because they were that uproariously funny. This was of course still during the wild and crazy days when he was seen as a giant man-child that had yet to grow up.
Let's be clear, anyone that did this in real life would probably be looking at jail time not just for child endangerment but also because pretending to be someone else and defrauding a school is a serious offense. But in the movie he gets away with it largely because no one wants to deny that he did some good with the kids and got them out of their snobbery-infused shells for once in order to have a good time and see what life was really like. It might seem like an unfair blow against prep schools but at the same time it's a message to let our kids be kids and stop forcing so much of life's harder lessons on them at an early age.
2. The Holiday
Sometimes you just need to get away from a place where people know you and go to a place that people don't. The Holiday is a great example of how a person can find happiness miles upon miles away from home and never want to go back even if they have to. This is also a movie in which Jack Black gets to be funny but he starts stepping up as an adult and showing that he does have the acting chops necessary to pull this part off. If you had any doubts about his acting and that he could be serious for a period of time then this should have erased them entirely. Of course he's still kind of a man-child but now it's easily tempered by the fact that he's also a good actor.
When it comes to animated films this has to be one of the best since it not only takes the love that people have for Kung Fu but it pits the martial art with a very profound life lesson that no one is exempt from being able to learn and enjoy the finer points of life and all it has to offer. Po is definitely not the typical martial artist that many would think of, but thanks to his determination and unwillingness to quit he soon makes it clear that he's not just the Dragon Warrior, he's an individual that is ready to do what it takes to succeed in any challenge that life throws at him.
Jack Black has come a long way, and he's getting better with every film he makes.