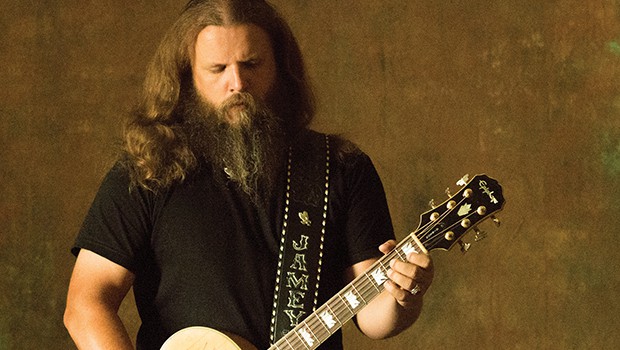 Jamey Johnson seems to a be person with a definite purpose in mind since by the time he went to college he was already a big music lover and was inspired by artists such as Alabama and Alan Jackson. In fact the college he went to was the same college that Alabama's lead singer Randy Owen graduated from. Johnson didn't stick around however as after a couple of years he joined the USMC and served his country while becoming a corporal at one point. He would sing songs for his fellow marines and by the time he got out was set and determined to start a career. He's sang about his time in the service and other subjects throughout his career so far and he's even collaborated with some of the best that country music has to offer from time to time. Since 2005 he's had his eye on the prize and his fingers on the strings.
Here are a few of his best songs.
5. My Way to You
Country music is one of the most up and coming genres in this day and age and while it might seem odd to some folks it's a fun genre that is also quite popular for its wide acceptance of a lot of other genres when it comes to putting them together. Johnson definitely seems to be a fan of putting a lot of the feeling into country that people tend to like since it makes them want to listen and relate to the words in their own way. The feeling that country tends to bring out in people is something that's almost down home, a feeling of wanting something that you know is true but is still hard to obtain.
4. Playing the Part
Okay, this video was just flat out funny to start with even though there's a definite feel that it's about a guy that's gone about as low as he can go in terms of where his life has gone. But all that being said you can't help but think that a guy in this kind of predicament, walking around as he is , would no doubt be subjected to same kind of treatment and would be seen as something of an oddity. The kind of life in a town like this would be something that lot of people might find to be less than optimal for one's self-esteem. But hey, that's the town, and that's the way things seem to go.
3. Lead Me Home
Country music has changed quite a bit in its time but in the same breath it's also manged to keep several key elements within the genre that a lot of artists hold onto. From the more traditional to the fringes this genre has been something that people have greatly enjoyed throughout the many years that it's been around. From the most rowdy honkytonk to the most well-meaning and deeply-rooted songs that have been created within this genre, you can see how people have managed to keep the faith when it comes to country music. For better or worse it's a part of our country and heritage that people aren't willing to let go of.
2. High Cost of Living
I do apologize for this video not showing up, but the song itself is something that seems to detail something that speaks of a life that's less than worth living. A lot of us imagine that the cost of living, from a moral standpoint, is too high to aspire to at times. But the manner in which we live is a very subjective thing at time. Some of us live to feel the next adrenaline rush, some live to score the next thing that will make us feel good for a fleeting moment, and then some of us will gladly push forward without the need to assess just what it's like to live with that many regrets. It's a hard way to live, but it's better than watching your life go down the drain while looking up in hope of seeing salvation that might not come without change.
1. In Color
It's easy to think that no one understands the life we lead each and every day, that they don't know the struggle our experiences. That's true in a sense, but then again we don't know what they went through back then. Every generation thinks they have it worse than those that came before, but in all likelihood if people were to be honest they would come to realize that the lives that were led before now were harder, less certain, and much more capable of being subjected to hardships that we'll never know. Our lies aren't perfect by any means, but at the same time we didn't have to wonder if we would live to see the next day so often.
Jamey Johnson definitely drives his points home without fail.,