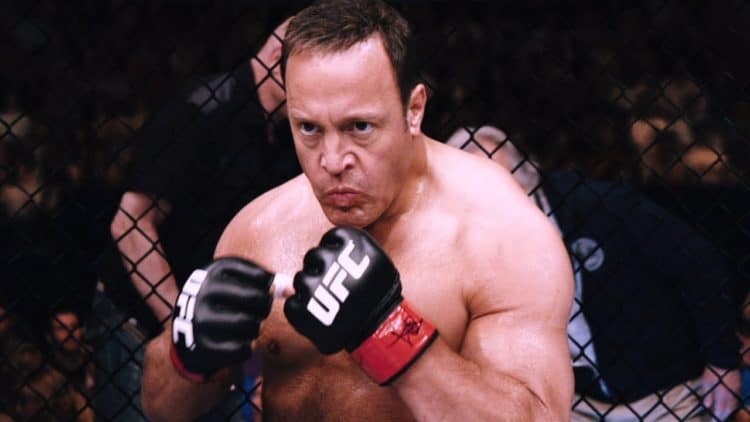 It seems as though Kevin James has been around for a lot longer than he has, but in fact his film debut came in 2005 in the movie Hitch. Since then he's been a mainstay in Hollywood and has been very prevalent and impossible to forget. His brand of comedy is a nice blend of the physical and cerebral elements that make him one of the more temperate comedians in the business at the moment. As he's gotten older though he's definitely calmed down along with the rest of those that he's been seen to star with, though his comedic wit hasn't dulled a single iota. One great thing about James, among the many, is that he's not really trying to be like anyone else, he's got his own comedic method that's allowed him to propel himself forward and become something that people have looked up to for more than a decade.
Here are some of his best movies to date.
5. I Now Pronounce You Chuck & Larry
One thing about Kevin James' movies is that they aren't always as well-received as you think they should be. The guy is genuinely funny, but he's also steeped in dramatic talent as well which makes him slightly less of a laugh riot and more like a human being in his movies. In this one he's a widower with two kids that's trying to make certain that they'll be taken care of if he's ever injured or killed on the job. Being a firefighter is a hazardous occupation after all, but asking his friend Chuck to pretend to be gay so that he can get the health benefits he needs is even riskier since it comes with jail time for both of them if they're caught.
4. Hitch
When it comes to relationships some men swing for the fences and others swing for the sky since the woman they want is someone that seems as beyond them as the sun is beyond the earth. When Jame's character goes for a well-known woman that's both powerful and rich however he's made the object of scorn and ridicule since of course everyone's going to think that he wants her for her money. But with Hitch's help he at least gets the chance to show her that he's interested in her as a person and not as an instant paycheck. After all, he starts out as one of the guys that was advising her how to spend her money.
3. Grown Ups
Growing up can be difficult when you start to lose those that were important in your life. When the guys find out that their favorite coach passed away they return to their hometown for the funeral and end up staying at their favorite cabin for the weekend, remembering what it was to feel young as they try to impart this to their kids. Of course the story revolves around who's lying about their life and how things are going, but at the very least it's a chance for old friends to reconnect and to remind one another what's important in life, as well as what it means to have true and lasting friendships you can depend on.
2. The True Memoirs of an International Assassin
One thing about becoming a writer is that you know the difference between fiction and non-fiction and learn to tell when it's okay to write non-fiction in a voice that's yours even if the experience belongs to someone else. Unfortunately Larson doesn't take to this to hear and once the book he writes is published he comes to find that those who know the Ghost is real aren't too impressed and want him to prove his worth to them by taking out the president of a country. Of course he tries to weasel out of it and just go home as any sane, rational person would, but when it's apparent that he won't be escaping he sucks it up and goes on an adventure that he wasn't even close to being ready for.
1. Here Comes the Boom
The UFC isn't for the weak of heart, but then neither is teaching if you want to get technical about it. Scott Voss is a guy that loves to teach and he's a guy that doesn't want to see his school's extracurricular programs get cut, so after figuring out that one can make good money as a cage fighter he begins to train. The going is rough, but he's got one of the best trainers in the world on his side and a lot of heart to go with it, meaning that the desire to go as far as he can to attain his goal of saving the school's programs leads him into a fight with one of the best in the business, and a battle that seems utterly hopeless.
Sometimes it's the heart of the person that matters most.