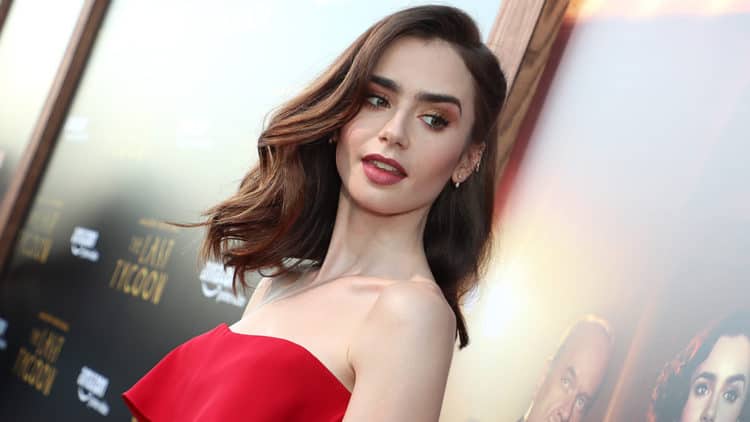 Lily Collins is in fact the daughter of famed musician Phil Collins and throughout her life lived with her mother when her parents divorced. She's been quite prominent in TV and in movies and has created an impressive career that has seen good and bad reviews aplenty, some of which were affixed to a few of the movies below that she starred in or was at least a part of in some way. She's been an actress, a model, and a writer, as well as a debutante, and is a very educated woman that has impressed a great many people with her diverse talents and how she's applied them to this point. Despite all that she did however suffer from an eating disorder when she was younger that she came forward about a while back and has since kept under control. Anything else however she is quite mum about since she's decided to stay quiet about any relationships she might be in.
Here are a few of her best movies from her career thus far.
5. The Mortal Instruments: City of Bones
A sudden plunge into a world she never knew existed forces Clary to come to grips with the fact that she is in fact a Shadowhunter, a being sworn to destroy demons and protect humanity while fighting alongside other creatures that are hidden in plain sight from the humans. When it's revealed that the person that is hunting for an item called the Mortal Cup, a device that can turn humans into Shadowhunters, is her father she learns how to fight back and eventually becomes one of them, joining their ranks in an effort to learn more. The film didn't get a whole lot of praise but the story is sound enough. With more development and perhaps a remake it could be great.
4. Abduction
She seems to like popping up in films where there's a personal transformation or something is hidden away and has to be discovered, but in this film Taylor Lautner's character discovers that the parents he thinks are his really aren't, and that in fact they're his protectors. When his friend, played by Collins, finds his picture on a missing children list the truth starts to come out and the bad guys that want something from him based on something his biological father did begin to give chase, and the only way he can get away is to utilize the skills his protectors instilled him with for so many years.
3. To the Bone
This movie is kind of ironic for Collins but perhaps symbolic as well since she went through her own struggle with an eating disorder. But all in all it's kind of interesting since Ellen is a young college dropout that's going through a rough time in her life and is obsessed with losing weight. The whole trouble with anorexia is that the individual will continue to exercise and eat less and less as they obsess about even the slightest amount of fat. It does vary a bit from person to person but it's still enough to note that this is a very serious disorder that can leave a person quite weak and unable to function properly.
2. Mirror Mirror
This is definitely another different version of the old story of Snow White but at the same time there are elements in the movie that have been used in the original story as well as in a TV show where Snow White was one of the main characters. Her transformation into a bandit and the plans of the evil queen to preserve her vanity are huge elements that have been seen to affect how people view this old legend and to make it a little more popular with viewers since it paints Snow as less the princess in distress and more like the woman that has had to learn just how to take care of herself finally.
1. The Blind Side
As far as the story goes there seems to be a lot that the movie has taken artistic license with in terms of how Michael Oher really came up, but overall the movie itself was great since it was an inspiration to many and a great bit of entertainment to be had for everyone. Keeping in mind that movies BASED on true stories don't always bother to get all the facts right should be something that more people are willing to take into consideration, but a lot of literal-minded folks want the reality to match up with the fantasy. The trouble is that reality is sometimes quite boring and not at all cinematic. That's why we get movies like this and that's why a lot of people like them.
Lily is one of those actors that should probably be given a bit more presence in the movies, but keep an eye out and it could happen.