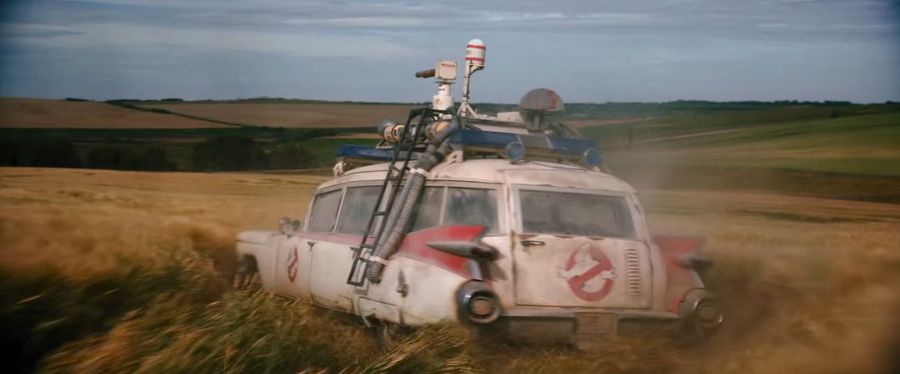 They're one of the more intimidating and oddball vehicles on the road at any given time and it's not always because of the way they look, but rather the type of cargo that they've been known to carry in the past. A hearse/end loader is an imposing vehicle usually because the idea is that they did and in some cases still do carry the dead to their final resting place. Quite a few people have gotten over the idea of a hearse being such an imposing ride, but there's still a mild stigma attached to them thanks to the effect that they've been given by history and tradition. The average hearse doesn't really look that godawful when they're kept up, but they've been used in movies and even on TV a few times to create an effect that is usually a little comical and definitely gets a reaction, even if it's just a small one. The fact that any car can get a reaction of some sort in a movie is a sign that people have been paying attention throughout the years to pop culture and history in some regard since otherwise it feels safe to say that most moments when one sees a hearse would be kind of 'meh'. 
Here are some of the best hearse scenes in the movies. 
5. Dumb and Dumber To
So let's put this out there very quickly, this movie did not live up to the hype and it definitely didn't live up to the first one since the first movie introduced us to Harry and Lloyd in a way that we didn't expect and weren't entirely ready for, but still enjoyed. This movie felt as though it was there more for the shock value and to gross us out as much as possible. That's kind of evident when Harry drives by a school bus filled with kids as Lloyd snarls at them from the back window, looking like a zombie risen from the grave. The fact that they showed him munching on a jelly donut and laughing it off feels a bit forced as it might have been to keep from traumatizing children. 
4. Terminator 3: Rise of the Machines
Again, not a great movie, but the hearse scene was kind of interesting since the fact that it was used as cover mostly was kind of fun, but it didn't do much against the new and improved Terminator since she mowed right through it with one her different hand attachments and was about ready to slice and dice her way into the back. One thing that still doesn't track, and it didn't for the second movie either, is that Kyle Reese said nothing but living tissue could come through the portal when it came to time travel. So how in the world did something that was completely metal, even liquid metal, make it through? 
3. The Shawshank Redemption
This is a bit of a cheat since the vehicle in this movie wasn't transporting a dead body, but Boggs was pretty close to being deceased after the beatdown he received. This is when said vehicles were used as ambulances as well, though these days a lot of people would say that they're the same thing. It's likely that there was a big distinction for a while, but in this case, it looks close enough to the mark that it was added in, and to be fair, it's possible that at the end of his life Boggs was carted away in one of these vehicles. It's the same form, different function, and oh yes, Boggs did get what he deserved. 
2. Harold and Maude
Yes, this is an odd story, but that's a big part of what makes it so great since the oddities make it worth watching. Some might curl their lip up in distaste at the romance that takes place between a teenager and an elderly woman, but they might also be focusing on the wrong part of the story. Imagine a 19-year old owning a hearse and being obsessed with death, and a 79-year old that's planning on dying at the age of 80 and is teaching as much as she knows to this kid that hasn't really begun to live yet but is fascinated about what it might be like to really die. That's a match made somewhere, but not heaven or hell. 
1. Ghostbusters
You kind of have to take in the irony of it, a bunch of guys that are out to bust ghosts driving around in a converted hearse that once ferried dead people to their final resting place. That's worthy of a good chuckle all on its own since the Ghostbusters kind of immersed themselves in the job on this one. But listening to the price and all the work it needed to be done on it one can't help but think that Ray isn't all that good at shopping for a deal or negotiating. Well of course he's not, he told a literal god that he wasn't a god and nearly got himself and his coworkers killed. 
The average hearse isn't that scary, but it's bound to have plenty of stories attached to it.