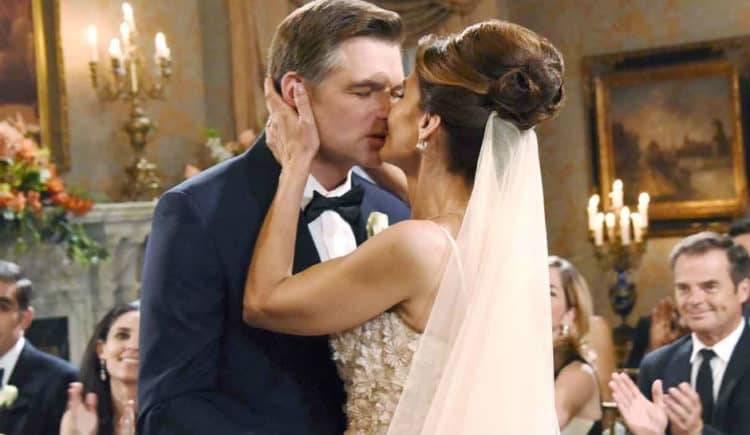 Days of Our Lives fans know that many people love to get married in Salem. They want to find their own happily ever after, live it out, and enjoy it. Like anyone, the people who live here love to fall in love, they love to make things work. They love to be happy, and they are not afraid to get married and make the most of their lives. The biggest problem in Salem, however, is the shortness of the marriages around here. It seems that so many people prefer to spend their time focused on things like their marriages in the moment. They're not really in it to win it. They're not in it forever. They're not invested in the many years ahead of them so much as they are invested in the right here, the right now, and the right this second. And that's why their marriages are sometimes short. Here are five of the shortest marriages in Salem.
Sami and Brandon – Hours
Is there a marriage shorter than theirs? We can't really tell, but we hope not. They were married in 2003 when they were just head over heels in love with one another, and they were so happy to be in this situation. But, their marriage didn't last. The day. It didn't last their entire wedding day. That's right, you guys. They were married less tha one day. When they said their vows, he found out that Sami had altered some big information – a paternity test – and he called it off. And by off, we mean he had their marriage annulled on the same day that they got married. Even Britney Spears was married more than one full day when she did that in Vegas.
Teresa and Brady- 3 Months
They got married in 2014 when they were just so happy and they were so in love. But, it turns out that they were not as happy as they thought. He might have thought this was it for them, but she turned out to be in it for the money and nothing else. He was not happy about that, so he ended their marriage a mere three months after they were finally wed.
Gabi and Nick – 5 Months
He is an ex con who was released from jail, and everyone was scared of him and afraid that he would make their lives miserable again. But, then there was Gabi and her apparent love for bad boys. She decided that he was worth her time, so she spent some time getting to know them. They developed feelings for one another, and that led to their 2013 wedding. They were married for about five months when she found out that everyone else was right and he was not the man he was pretending to be for her. He was a gentleman who did everything right – but only for her. She realized it before it was too late, thank goodness.
Daniel and Chloe – 6 Months
She was in love with him, but not as much as he was in love with her. Her love for him was conditional, and it turned out that the condition was that she wanted to be with other men when she was married to him. They were wed when one of his old friends, Carly, came to town. They have a daughter together, but they were only friends. They're close friends, but they were only friends. His wife was more than a little upset about their friendship, she was jealous, and she slept with Phillip. He found out about it, and he did not forgive her for it. In fact, he divorced her, and that was that.
Chloe and Lucas – 7-9 Months
We aren't entirely sure about their marriage, but we do know it did not go well. She was married to him in 2009, but it didn't last. She had done some good things for his family, but she married Lucas even when she was developing feelings for her next husband, Daniel. They were married for a few months, but it did not work out and they annulled their marriage. She married him out of guilt, and that didn't work for either of them.