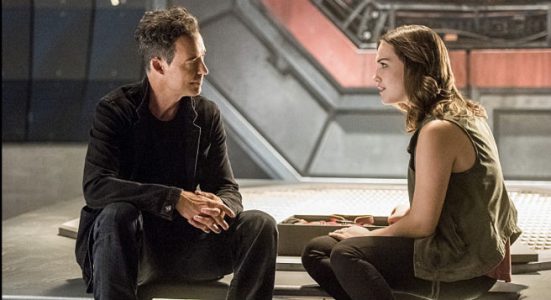 Although The Flash has been off to a hit or miss start this season, nothing in the show's first two episodes had been alarmingly bad. There were clear issues which largely fell on a lot of dedication to a worn out Flashpoint idea, but things seemed to move back towards normality by the end of episode two. This week's episode, "Magenta," finally has things feeling a lot more normal on The Flash and while there are still some questionable story choices in episode three, the good easily outweighs the bad.
Right from the start of "Magenta" things feel back to normal with the characters, their personalities and interactions with one another. Cisco has rediscovered his wit and things are happy between Joe and Iris. Yet, there is still something missing from the season; Harry and Jessie. Tom Cavanagh and Violett Beane. Having Harry and Jessie on the show elevates it to another level because they provide some great additional perspectives; Harry, as seen immediately in last night's episode, is a character who doesn't allow anything stupid to be said without it being called out. His sarcasm and wit have always been the one thing that keeps these characters in check each season, and someone is finally not letting Barry forget that he royally screwed up by messing with the timeline after knowing he shouldn't have. As for Jessie, the character has always been a fun and bubbly presence on the show, feeling a lot like a female Barry in a lot of ways. All of the main characters have been struggling with personal problems so far this season and the return of these two brings a much needed tone back to the cast. Giving Jessie her powers is fun, because Barry will finally have an honest and real speedster partner that he can trust, and with Wally's transition seeming like a larger story arc that needs to be earned, Jessie is a great addition for the now. The conflict between her and Harry has always been typical, but real with a father worrying for his daughter's life, but it seems like this season there will be a nice progression past that for standard weekly situations.
The other bonus of having Jessie back is she always seems to help make Wally come across as a better character. Wally has always been so bland and just feels like he's around for the sake of keeping the character on the screen. His relationship with Jessie was a high point of last season and their interactions with one another really displayed the characters growing as individuals. This season, aside from the stint as Kid Flash, Wally hasn't really had much to do, but having Jessie back seems like it could help. Wally just comes across as being very bland and while the character has flashes of growth, his character always seems to revert back to his immature, whiny and rebellious attitude. In "Magenta," Wally actually decides that it's a good idea to step into traffic hoping it will "jump start" potential dormant powers within him. This was just an absurd moment because even though Wally is clearly desperate to be a part of the people with powers club, he would willingly risk his life to get there. Now, obviously a part of him knew that Jessie would save him before the car actually had time to make contact, but it's just a really generic scene that makes Wally look really bad. Between his desperation and more discussion about Alchemy, it looks like The Flash is clearly setting up poor future plot for Wally, who could possibly seek out Alchemy to have his powers restored. Again, this would just really cheapen Wally's origin story, especially because it would probably come with the ultimatum that he helps to take our Barry. Flashpoint Wally was actually written really well and the character was much more tolerable as a hero, so it's clear that the show needs to get him to that point, let's just hope that The Flash writers go about it in a well-thought out way.
The Flash is definitely finding it's footing again after seeing this third episode in the season. Everything is feeling back to normal, and while there are questionable conflicts ahead, the show is looking stable for now. "Magenta" is an episode that, most importantly, takes Barry back to his roots and reminds viewers about why Barry is such a great hero. His belief in people, powers or not, being inherently good is the foundation that all superheroes need. The Flash always seems to get distracted from these core values, but when Barry is at his best as a character, he truly elevates everyone else to a greater level as a constant reminder that we all can have an impact. Scenes pop up like the one between Joe and Wally, where Joe tries to express that Barry was helping people long before he had his speed, and how Wally is smart enough to accomplish as much. Barry's character really drives things on The Flash, and last night was a nice return to the best parts about the titular character.
Season three of The Flash has been all over the place to start off, and although there is a lot to look forward to, hopefully the show can avoid previous cliche character moments or plot points going forward. It's a great sign that everything is settling down after Flashpoint, but the show better not alter too much to appease the fans. Plot points like Caitlin hiding her powers, Wally doing dumb selfish things and Barry and Iris not being together feel so worn out through three seasons; however, there are plenty of great story lines set up in The Flash and as long as the writers can properly execute without using Flashpoint as a crutch, the show should be fine moving forward. "Magenta" was easily the best episode thus far in The Flash season 3, but only time will tell if the show can stay on a successfully consistent path.
Other Thoughts:
I think Cavanagh is the best person on and involved with The Flash.
Hoping we get some expanded plot for Julian going forward. Tom Felton is great, but I want him around for more than being a jerk who drops some witty remarks from time to time.
The Killer Frost/Caitlin plot feels a little exhausting. They are really stretching some dialogue out to focus on her hiding her powers. Why do we have to go through this again….. WHY?!
The Flash Season 3 Episode 3 Review: "Magenta"