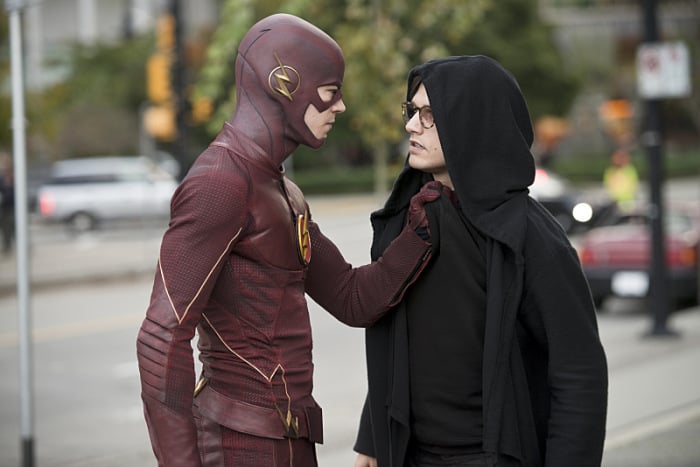 Tomorrow night's episode of The Flash will welcome another infamous comic book villain to face off against the Scarlet Speedster: Hartley Rathaway, aka the Pied Piper (played by Broadway star Andy Mientus). From the recently released photos from the episode, titled "The Sound and the Fury," it looks like Barry will certainly have his hands full when battling his newest foe; however, if this new, just-released clip is any indication, it may be the emotional blows that Rathaway delivers to Barry that are the most dangerous, as he teases him with a secret that he knows about his former mentor Harrison Wells.
While we, the audience, all know that Wells is hiding his true identity, Reverse-Flash, Barry, at least this moment, has no idea that his friend (as we heard him call Wells in last week's episode) is actually his nemesis. Will Rathaway be able to give Barry some new information about Wells that will lead to him discovering the truth? We'll have to wait and see.
Check out the sneak peek at tomorrow night's episode, along with The CW's full description for it, below, and let us know what you think. What "secret" does the Pied Piper really know about Wells, and how do you think it will affect Barry? Tune into The Flash tomorrow night at 8 p.m. on The CW to find out.
BROADWAY STAR ANDY MIENTUS GUEST STARS AS THE PIED PIPER — Dr. Wells' (Tom Cavanagh) former protégée, Hartley Rathaway (guest star Andrew Mientus), returns to seek revenge on his mentor after being affected by the particle accelerator explosion. Now able to manipulate sound waves, the brilliant Rathaway is a dangerous threat to both Wells and The Flash (Grant Gustin). Meanwhile, Iris (Candice Patton) is thrilled when she's hired by the Central City Picture News as their newest cub reporter. Unfortunately, her editor (guest star Tom Butler) pairs her with a veteran reporter, Mason Bridge (guest star Roger Howarth), who wants nothing to do with her. Cisco (Carlos Valdes) recalls his first day on the job at S.T.A.R. Labs when he met Hartley and Caitlin (Danielle Panabaker). Joe (Jesse L. Martin) asks Eddie (Rick Cosnett) for a favor but asks him to keep it a secret from Barry. John Showalter directed the episode written by Alison Schapker & Brooke Eikmier.
[Photo via The CW]