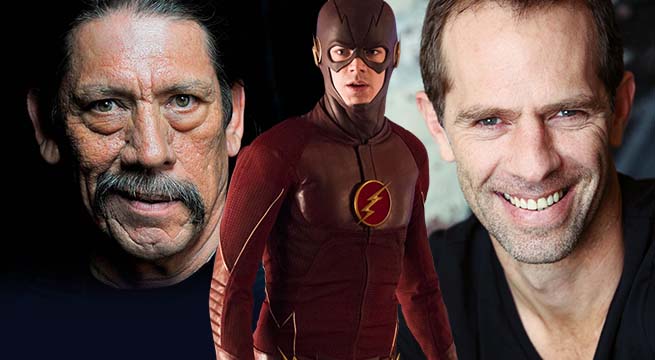 Danny Trejo is that craggy-faced older actor you've seen in such hits as Machete, From Dusk Till Dawn, and even in other films where he cameos for a brief spot, such as Desperado. You've always known him as a kind of rough and tumble character, but you've likely never seen him in a superhero show, at least until now. When The Flash begins its fourth season you're going to see him in a way you haven't seen him yet as a part of the DC Universe. He's signed on for the fourth season and will be playing a bounty hunter named Breacher that is about as tough and as mean as they come.
So let's learn more about the character.
Breacher is from Earth-19.
Coming from an alternate reality in comics is fairly standard, but Breacher is a special case in that he can jump between the dimensions whenever he wants to. Unfortunately being exposed to interdimensional energies in such a manner has caused his body to deteriorate at an accelerated pace and as a result he has to wear a special containment suit to keep himself alive.
He can absorb and redirect interdimensional energies.
Breacher isn't just about being a bounty hunter, which is his profession. He's also able to take in and expel the same energies that have damaged his body to such a degree. The difference between him and any other that can do this is that those others can do so and then let the power out in an unfocused and raw form. Breacher's suit allows him to hold onto the energy and continually build it up until he expels it in a much more powerful form.
Breacher has a rather tragic story.
Apart from the deterioration of his body that requires his suit, Breacher's world was destroyed by Rupture and his wife in an attempt to conquer all that stood before them. He decided to form a rebellious group that would stand against Rupture and insure that no one else would be able to damage their world with impunity ever again.
Breacher can jump from one dimension to another. 
As a bounty hunter it's necessary to be able to go after one's prey without suffering any difficulties or unnecessary roadblocks. Breacher is able to jump through the dimensions at will, and he is even able to take others with him when needed. He is not typically shy about patrolling the borders of his own dimension and is known to go after most anyone that commits the crime of jumping into his home dimension.
Anyone that has ever seen Danny Trejo in action simply knows that the actor will bring his A game to The Flash and will create a character that many will either love or hate depending on how the DCU decides to portray him. Trejo is an actor that definitely plays one of the best rough and tumble characters in any venue and should be able to bring a certain level of authenticity to the kind of character that Breacher has been penned in as in the past.
Save