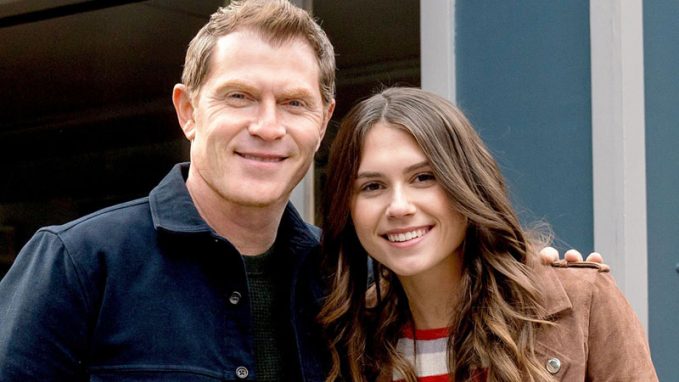 Being a celebrity chef is a common thing these days, but there was a time when celebrity chefs were diamonds in the rough. There were only a few names that stood out in a crowd, and one of those names is none other than Chef Bobby Flay. Flay has been a staple in the television cooking industry, and he's done so many different kinds of shows in the past. This year, he's coming out with something unique and truly special, and it also marks just how long he's been at the top of his industry. The Flay List is Chef Bobby Flay's new series, and here are 10 things about it you probably didn't know.
1. All in the family
It's about time that the cooking superstar shared the spotlight, and there really is no better person for Flay to share it with other than her daughter, Sophie. Sophie is a charming 23-year old girl looking to make her own mark in the world. There's nothing wrong with getting some push from dad, but Sophie is someone who paves her own way. She's not new to being on television, as she works as a community journalist for ABC-7 in Los Angeles.
2. The plot
The Flay Listwill basically feature Bobby and Sophie, as they travel to various locales looking for the best dishes in the area. It sounds like it's been done before, but nothing like this has really been done previously. We've never really had a father and daughter duo tackle the culinary streets before. Knowing how charming Bobby can be on screen, it'll be interesting to see how his dynamic will be with his daughter along.
3. Bobby's idea
We all know that Bobby Flay is culinary genius. We can only imagine that he must have so many ideas just floating around in his head constantly. He's already got a few great shows under his belt, and this new series might just be an addition to that list. The Flay List is Bobby's idea, of course, and Sophie is brave and willing enough to join him for the ride. We're not quite sure if she's switching careers or just putting her journalism on hold, but we're glad we get to watch her for a bit.
4. First stop
The first episode, if you missed it, featured the Flays in New York City. It's probably one of the more difficult places they could travel to considering how much good food you can find in New York. The two were very specific in their journey, however, as they went to the Big Apple to scrutinize the taco scene in the area. The Flays visited two places, Los Tacos No. 1 at the Chelsea Market and Oxomoco in Brooklyn. It was a great start to a new series and a refreshing take on NY tacos for sure.
5. The softer side
One interesting thing about The Flay List is really seeing the dynamic between Sophie and her dad. As charming as Bobby Flay may be with a knife and a stove, he's as tough as the chef next door. Since Bobby and Sophie have a different relationship, we get a glimpse of Bobby that we've really never seen before. He's more playful and sweet—just like a dad. And that's exactly how he is on The Flay List.
6. Episode themes
Just like how the Flays tackled tacos on the first episode, they'll also tackling different themes on each episodes. Every episode on the series will run for about half an hour, and there will be at least 6 episodes this season. Bobby is likely to present a more classic option of a restaurant, while Sophie will show us fresher and newer approaches to cooking and eating favorites. That's what the duo did during the first episode, and that's likely how they'll approach every food theme on every episode.
7. Agreement
We're sure that Bobby Flay is the type of chef that thinks things through before he does anything. We already know that The Flay Listis his idea, and he must be totally confident in this idea because he signed a three-year deal with the Food Network this past December. Anything Bobby Flay touches tastes good, and so far this new show is already making us want more. With a six-episode run this first season, we're just being given a taste of what could happen. There's a lot of potential here, and if Bobby Flay is in the mix, it's a surefire hit.
8. Rumored places
We know that sometimes surprise is good, but we just can't help but dig on this show a bit. There are rumors on what places the father and daughter duo will visit on their New York tour this season. We already know they've gone to the Chelsea Market for some good food, but the two are also visiting a few of their true personal favorites. Sweet Chick, Morgenstern, and the Blue Room are some of the places they will visit. They'll also get pizza from Emily's and some sweet stuff from Grace Street Café.
9. Personal
If it's sounding like this show is personal, that's because it truly is. Apart from the fact that it's going to involve Bobby Flay's daughter, we're also going to see the places where they actually like to eat outside the camera lens. We'll also see a few places where Bobby Flay worked before he became established in television. There's a lot of Bobby in this show, and it's something worth our attention and appreciation.
10. When to watch
If you haven't yet, make sure you tune in every Thursday at 10:30pm ET/PT to watch The Flay List. The Food Network has plenty of Bobby Flay to go around, but this new show is very different from anything he's done in the past. The Flay List may only be 6 episodes long this time around, but we're sure we'll see more in the coming future.