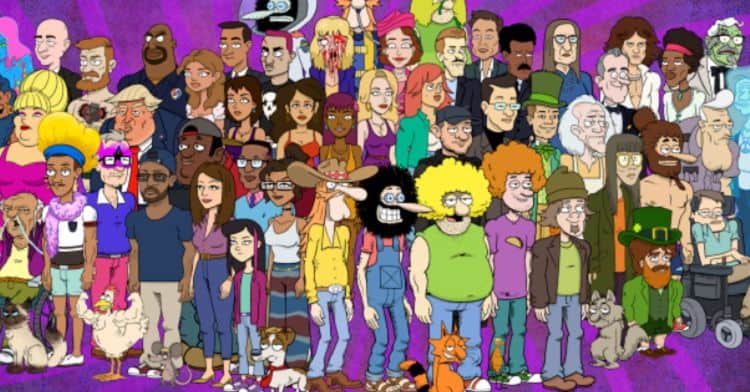 It feels as though some folks are going to have to be reminded about the Freak Brothers while others will have to be given time to do their research and find out why this trio from the 60s is going to be made relevant again thanks to Lionsgate. The trio that smoked a magical strain of weed and was transported to 2020, what a great choice, is going to be voiced by Woody Harrelson, John Goodman, and Pete Davidson, so one can at least imagine that it's going to be hilarious simply due to what will likely come from this trio, as well as what Tiffany Haddish will add to the mix given that she's more than capable of offering up the sass and attitude that can put a little pep in a project. Given that these characters were created back in the 60s, one has to wonder why they're being busted out now. But then again it's a different idea to push and something that's bound to get people to laugh, which is important at this time when a lot of people are still looking for reasons to enjoy life in one way or another. The number of jokes that can come from a project that's based on weed will no doubt be great since the list of characters already looks like it's going to be plentiful enough to keep the story going for a while.
A lot of things take time to mature and become popular after their first run, but this appears to be something that a number of people knew about decades ago, and it's just now making its debut as an animated series. Likely as not it won't be a family-type of show, but it's still going to be highly entertaining for those that want to watch something new, kind of, and innovative enough to create the need for laughs and wide-eyed stares as they unveil one character after another and are bound to get into situations of their own making. After reading up on the Freak Brothers just a bit it's a safe assumption that this show will be something that people might be talking about in the days to come, or it will debut and then not go anywhere since just from the outset it doesn't sound like something that's going to go halfway. A show about stoners and those that interact with them is going to be different shades of messed-up, but the feeling is that it's worth it since the humor that comes out of such shows is bound to make a lot of people forget that much about the content and instead get into the idea of finding something that's worth laughing over. That's the point, after all, getting a good laugh out of it, and of course, getting people to watch.
It does make a person wonder how many other stars are going to lend their voices to the show as the episodes roll out since the cast that can be seen in the picture above is easily large enough that a lot of people could be utilized in a very efficient manner. In fact, some folks might be able to take on two or more roles if they're so inclined, given that there's a wide array of voice actors out there that can voice a large number of characters. For an idea that was thought up back in the 60s it's kind of hard to wonder why this never went any further, well, it's hard thinking that it was never brought out in the 90s at least before it was discontinued. This kind of a series might have been great during that decade since it would have had the right kind of attitude that people wanted to see and it likely would have found a great audience that would have eagerly embraced it in order to bring the comic to life and let it run a bit. At that point, it might have lasted a little longer and we'd be talking about a reboot at this point instead of the first appearance on TV. But that's how things happen sometimes, ideas that might have been great are put on hold until they're either forgotten about or they simply can't be brought to the forefront for a while until the conditions are just right. But there's also the fact that there are so many ideas out there that trying to get to them all is impossible sometimes, especially when it comes to gauging how effective they'll be.
If the Freak Brothers prove to be successful it's likely that we'll see more of it as the idea picks up and more people find it appealing enough to spread around. If that happens, then maybe the long wait will have been worth it for those that enjoyed the comic for so long.