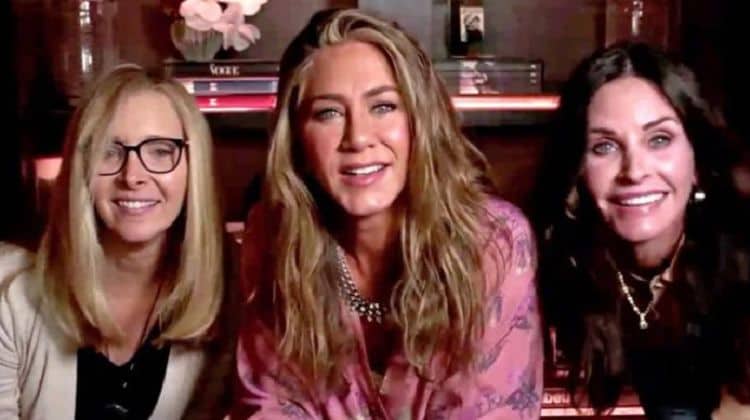 Far be it from anyone to willfully mock the idea of a Friends reunion being a tearjerker, but why? People tend to get pretty sensitive about their favorite shows these days, but the fact is that a lot of folks have been calling for a Friends reunion since the show ended back in 2004. It should have been a pretty good hint when the majority of the cast members said no that this wasn't something they wanted to do since their desire was to move on and find other roles that would help their career to move forward. A reunion show was never that bad of an idea but when people start to call for a reunion show less than a year after the show ends, or less than 5 years or so, it becomes a bit of an annoyance to many others that can't figure why fans can't just move on at times. But after years of hoping for the development of such an episode, fans can finally breathe a little easier since an unscripted Friends reunion has been finished and is ready to be released on HBO Max so that fans of the show can tune in and finally see what they've been wanting for so long. As far as being a tearjerker goes it can be imagined that the cast might shed a few just to remember everything that's been said and done throughout the course of the show. After all, Friends was one of the most popular shows on TV at one time and they managed to be among the most memorable of programs that were enjoyed by an untold number of fans. When the show ended everyone went their own way, but only a few of them really ended up maintaining their reputation with the fans.
Matt LeBlanc went on to star in the show Joey, which was the same character from Friends but minus his original costars. Needless to say, this show didn't do nearly as well as Friends, and LeBlanc's reputation took a slight dive since he did show up in movies and other sitcoms, but things were never the same. It's kind of funny to think about since his days as a guest star on Married…With Children made it feel as though he might be someone to watch in the years to come. He's been a decent actor, but not the same caliber as a few of the others that he shared the screen with. David Schwimmer definitely did what he could by showing in TV shows, miniseries, and movies that didn't get a whole lot of attention, but Ross was definitely one of the biggest highlights of his career since not much else has managed to get him that kind of attention. Matthew Perry has been roughly the same even though he's starred in a few movies that actually did manage to gain him the kind of attention that wanted since The Whole Nine Yards wasn't too bad, and 17 Again benefitted from the addition of Zac Efron as Perry's younger self. But apart from that, the guys that were so funny and definitely an integral part of this show didn't go on to do much once Friends was over, at least not when it comes to taking the spotlight in a meaningful way.
Lisa Kudrow was the only woman in the core group whose career didn't really take a huge jump when the show ended. She's starred in plenty of movies and has been great, but her time as Phoebe was definitely a stronger showing than a lot of what she's done in the past. Romy and Michelle's High School Reunion, goofy as it was, actually stands out as one of her better performances since it was closer to the ditzy character of Phoebe, as a lot of people tend to like it. Courtney Cox, who had already been big in movies over the years, continued onward with the Scream movies, which she'll be doing once again with the upcoming sequel that some folks think is going to be a revival of sorts but might hopefully be the final death knell. Cox is the individual thinking that the reunion would be a tearjerker, and it might be for those involved. The last on this list and definitely the most successful since Friends ended, is Jennifer Aniston. She's been on a roll for quite a while between movies and other projects, and it's obvious that she's become one of the most popular women in show business since pretty much everyone knows about her, and she's been the most successful of the bunch since the show wrapped up. For someone that starred in a schlock horror such as Leprechaun, it's easy to think that some might have been amazed that she's gone this far, but her career has been on the rise for many years now. The reunion is bound to satisfy a lot of people, but hopefully it will be a one-time occurrence.