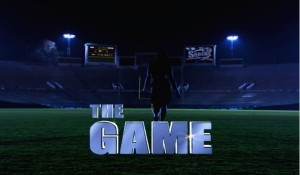 I don't know how I missed this piece of news involving The Game, but maybe that can be attributed to people still up in arms over the dismissal of stars Tia Mowery Hardrict and Pooch Hall, aka Melanie and Derwin Davis, respectively.
Zap2it reported this past Monday that BET's The Game will indeed be adding new characters to fill the void left by Mowery-Hardrict and Hall's characters. The two new characters will be a female character named Kiera and a male character named Bryce "The Blueprint" Westbrook. No word was said whether these two will be a couple when they come onto the scene or end up falling for one another, so either scenario could be at play at the moment.
What Zap2it did include were the descriptions for both characters. Kiera is a 20-year-old former child actress, who is trying to transition into more adult roles after being on a sitcom at the age of five. (Think Kiesha Knight Pulliam, aka Rudy or Raven Simone aka Olivia from The Cosby Show.) The casting call has also described Kiera as being "bright and charming." Again, think either Keisha Knight Pulliam or Raven Simone, because the description seems like the life story of both young ladies as they transitioned into their respective adult careers.
As for Bryce, he will not be your typical 'dumb jock' as he is a "#1, Ivy League running back and a Heisman Trophy recipient. In other words, he will be sort of an "anti-Derwin/Malik/Jason," which will hopefully be an even balance of the tomfoolery to come now that Malik is headed back to his bad boy ways.
However despite the introduction of these two new characters, the question now isn't whether they will fit in on The Game next season, but if the fans even still give a damn at all. The season five finale of The Game, which aired this past week, left a polarizing reaction among the show's fan base. Some thought the finale was well put together and ended on a decent note, while others felt that the finale lacked substance and clarity when it came to some of the characters' actions. The latter detractors also felt that Melanie and Derwin's send-off left you wanting more… and not in a good way.
But most of the fan base have stated that they are done with The Game, whether they liked the finale or not. Although, I wouldn't take that sentiment with a grain of salt, because fans new and old of the show will be interested to see how this new revamped, revamped version of The Game will turn out next year. Now whether or not if they will stay after the premiere is another story.
What do you think about the new characters/couple/potential couple of Kiera and Bryce? Will they do the impossible and have us saying, "Melanie and Derwin who?" Forget that I asked that last question. Sound off below!
Source: Zap2it