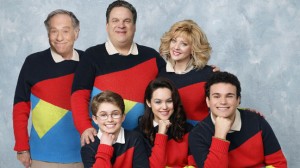 To most, the '80s were a time of big hair, bigger shoulders, and cotton candy pop music. For geeky 11-year old Adam (Darien Provost) these were his wonder years and he faced them armed with a video camera to capture all the crazy.
The Goldbergs are a loving family like any other, just with a lot more yelling. Mom Beverly (Wendi McClendon-Covey) is a classic "smother"; an overbearing, overprotective matriarch who rules this brood with 100% authority and zero sense of boundaries. Dad Murray (Jeff Garlin) is a gruff, hot-tempered father who is learning how to parent without screaming after a recent health scare… and having little luck. Sister Erica (Hayley Orrantia) is 17, hot, terrifying and not one to mess with. Barry (Troy Gentile) is 16, a grade A spaz with a classic middle child syndrome. Adam is the youngest, a camera-wielding future director who's crushing on an older woman, 15 year-old Zoe. Rounding out the family is beloved grandfather Al "Pops" Solomon (George Segal), the wild man of the clan, a shameless Don Juan who's schooling Adam in the ways of love.
When Pops buys a new sports car and offers his Caddy to middle child Barry, it's enough to drive this already high-strung family to the brink of chaos.
The Goldbergs stars Wendi McLendon-Covey (Bridesmaids) as Beverly, Jeff Garlin (Curb Your Enthusiasm) as Murray, George Segal (Just Shoot Me!) as Pops, Hayley Orrantia (The X Factor) as Erica, Sean Giambrone as Adam and Troy Gentile (Good Luck Chuck) as Barry.
The Goldbergs was written and executive-produced by Adam F. Goldberg (Breaking In, Fanboys) and also executive produced by Doug Robinson. The pilot was directed by Seth Gordon (Identity Thief, Horrible Bosses). The Goldbergs is from Adam Sandler's production company, Happy Madison, and is produced by Sony Pictures Television.
The Goldbergs is set to air Tuesdays at 9:00. You can check out ABC's 2013-2014 schedule here.
Will you be watching The Goldbergs? How does the trailer make the show look? Is the show going to be a good match with Marvel's Agents of S.H.I.E.L.D. and Trophy Wife?
[cf]video_one[/cf]